I am on my traditional Angeles City visit at new Year to see two of my absolute best friends here, Kim and Tom. After spending a couple of days with them they told me there are plans to drive to Manila with another friend to watch the most expensive movie ever made – Avatar– in the I-MAX movie theater.
Well I am not into that Fantasy thingy but hey, getting on a nice trip with great friends watching a supposing to be great in 3-D in one of the absolute High End cinemas of this planet, no way I will pass on that.
So here we start the trip on a Sunday around noon time at the house in Angeles City with 4 BIIIIGGG boys, actually 3,5 big boys, looking at them I am pretty tiny… hehe . Kim spend the whole night and Sunday morning praying Rosemary to make the aircon in the Van working but the result was not really worth his effort, so he should not forget to light some candles too.
As the highway is almost empty, opening the windows is enough to cool down the van to a acceptable temperature all the way to Manila until you hit the famous Manila traffic. We 3.5 fat guys were lucky, as the traffic was not really that bad for Manila, but still enough to make me sweating and almost melting on the backseat like butter on a hot toast. Kim's prayers were not completely useless as about 5 minutes from the Mall of Asia (where the I-MAX is located) the aircon started to spit out some cool breeze, cool in consideration of the temperature in the van which was close to boiling point.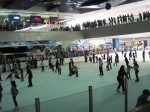 We floated out of the van and entered the Mall of Asia on the search of the I-MAX. After about a 5-12 km walk through one of the worlds biggest shopping Malls (by the way, an ice-scating – thingy in the Philippines is still a kind of disturbing for me) we arrived at the movie theater to find out that all shows for that day were sold out.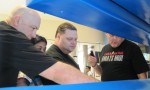 Yeah, of course…  3.5 fat long-nosed smartasses going on a Sunday afternoon without tickets or reservation to a Cinema to watch one of THAT movies. I hope nobody of them was surprised that it was sold out. That's what is called proper planning. I guess we simple lost the right to complain when things with Filipinos in charge are not working out that well….
As we do not have a proper job, we made the decision buy tickets for the next day and stay over night in a Hotel somewhere in Manila.  But that's gonna be another story coming up soon, I already have the title… "The Manila Burger Run". Stay tuned…
Cheers
Rhoody