It has been three years now that the Waterfront Café served me with cold beer and great food; that I met my divers there and went to Apo Island or Dauin; that I was teaching diving academic or just met some guys in the evening as a meeting and starting-point into the (pretty limited though) nightlife of Dumaguete.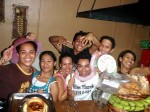 Well, the era came yesterday after three years to an end and the Waterfront Café at the Boulevard in Dumaguete closed its doors around midnight for the very last time. It has been a kind of strange situation, sitting there with my two girls, looking at all the packed-up and ready to move stuff, looking at Mike (the owner) who wasn't in his sunny boy mood. All in all the atmosphere was a kind of down and the Pizza Mike ordered couldn't make up for that…
It is actually not that bad as it sounds, as the Waterfront Café just moves to Dauin and continue it operation with the old staff at Mikes Beach Resort there.
What will happen to the place many people patronized in the last year?
The solution is not so bad; my fat Austrian friend Guenther from Casablanca takes over and will open a kind of Restobar in about two-three weeks. The new place will have the name Bogarts and has a slightly different concept, compared to the Waterfront Café. Bogarts will open early morning to serve breakfast to guests. So the regulars of the Waterfront Café won't need to change location. Oven fresh bread will be baked right there for those who are just tired of the tasteless local thingies…
During the day Bogarts will offer Snacks and easy lunch dishes like Sandwiches some Pasta or Burgers also for Takeout.  In the evening the same dishes are available and the Restobar transfers in a kind of Pub where you get your cold beverages, having some snacks, listen to music and watch some Videos on the LCD screen.
There will still be a counter for the Adventure Diveshop where divers can  get information and book their dives in Apo Island and Dauin
Anyway, all the best for both, Mike and Guenther and Bye Bye  Waterfront Café and Welcome to Dumaguete "Bogarts"
cheers
Rhoody