I went to Zanzibar – Lounge & Restaurant in Dumaguete a week ago when it had soft-opening and my first impression was that this will be a cool hangout for me in the future.  Zanzibar – Lounge & Restaurant is a small place just across the famous Sans Rival very close to the Boulevard in Dumaguete.
I wrote about the soft-opening a little report on Dumaguete Info (click here: Zanzibar Dumaguete on DI), so for this post I wanna stick to the Grand Opening of Zanzibar Lounge and Restaurant in Dumaguete which was yesterday at 7:30pm. Well that was a very bad time for me as it also was the Kick-Off of the German Team at the Soccer World Cup in South Africa. Zanzibar has a nice big TV at the bar, so I was able to watch it there.
I always trust the philippino time and was pretty sure that I won't miss a lot of the program. When I arrived there at 7:25pm the stage was not eve build and therefore I could watch the match which began in "real" time. Well, Germany lost but that didn't really bother me a lot  as the mood in the bar was great and I had so many smiling faces and lovely woman around me to enjoy the evening.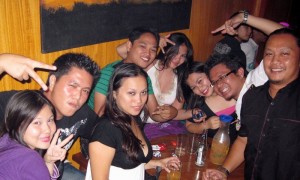 After the game I went outside to find out that there was still nothing going on, but Mike of the Dauin Beach Resort arrived with his family plus Angela and Freddy, two friends of mine from Taiwan which had the last evening here before heading back.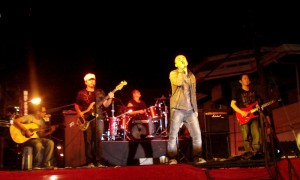 Around 10:30pm (which is not too bad for philippino time) a band started playing and they were pretty good. They played 10 songs, which was definitely not enough and sadly in the middle of their set it started to rain a little bit. After their set a "fashion-show" started, well, I am almost 9 years here in the PI and if you seen one single provincial fashion-show, you have seen them all. (I hope you can wait for my "Fashionshows in the Philippines"-article, that's gonna be a blast)
That's why I skipped that part and my lovely Rechel took some pictures. I preferred to get inside Zanzibar and what can I say, the place was rocking. Everybody was in a party mood and the spirit was great.
Well as I am a bit older and had not that much sleep the last few nights, I decided to leave the party-zone around midnight.
Anyway, the Zanzibar Lounge and Restaurant – Dumaguete goes straight into my top3 hangouts in Dumaguete.
cheers
Rhoody