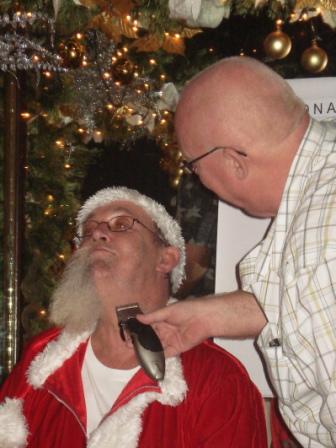 At around 1 pm I arrived at the house of Kim and Tom. House might be a bit of an understatement, it is a huge lot with a pretty house and a nice pool. I know their old castle, but  this one is really topping it. Spacious open with big pool nice garden , just hard to describe. We were sitting outside at the bar next to the pool and enjoyed a cold ice tea while talking a bit about the next days.
This  evening we will go to Roadhouse for a charity event for the Bahay Bata Center in Angels City where Tom will be the MV. A plate of Kim's Potato Salad and some meatballs were perfect as I was a bit hungry. After the snack I went for a nap as I will face a loooong night.
We go there around 5:30 pm and paid the 1000 peso entrance. The fee gives free food and drinks until midnight.  The event started very slow but picked up around 10:00 pm. Several raffles and auctions where on the schedule and some of the highlights were the shaving of Santas beard. Santa is a well known celebrity in Angeles and so many people want to see his beard fall. I met plenty of mates to have a beer with and visited the neighbor bar where Gordy (aka Drummer) is the Manager on duty that evening.
We left Roadhouse around 1 am and went for a barhop. This was the last time I looked at my watch and felt a bit tired already. We headed to Birdcage, where Kim and Tom were the Sunday-managers before, had a quick beer and moved to . All the bars were surprisingly quiet for a Saturday night and all Hotels full. As we were a crowd of 7 it was no problem and we had a god time. Next stop was Vortex to meet Martin, another Manger and old mate of the guys in our crowd. At time I was seriously damaged already and ready to go home. Martin ordered some weird shooters and they just gave me the rest. I was done but they dragged me to Carousel where I had to more beer while bagging Kim to call the driver to bring me home.
I have not really a detailed memory when I came home, but I made it to the room and felt asleep in a split-second.