We sadly haven't been out diving much this last few days and week since our dear old friend had a little accident. He already had his surgery and is now undergoing physical therapy and recovery. While he stays in the hospital for recovery, being a good friend, I took on the responsibilities of taking care of his house and his three cats. But first, let's get an overview of the situation.
The Rescue!!!
It was a normal Wednesday morning for us all in the office. Dive Monster Senior was on his side of the desk typing and having coffee, I was on my side of the desk, Mama Monster (the Big Boss) was on her side of the desk. Around 10 o'clock in the morning my mom and dad received an urgent text message from our friend saying that he slipped on the floor and might have broken his hip. My parents quickly changed and went to his house, while I called for an ambulance.
Our old friend is literally old, he is 72 years old living in the town of Sibulan only a few kilometers from the city center of Dumaguete. To hide his true identity, we shall call him Rumpelstilzchen. The incident happened around midnight when Rumpelstilzchen tried to switch the lights off in his garage. It was raining and the tiled floor was slippery. In a split second he was down on his feet with nothing else but pain. He battled his way to stand up but couldn't. He crawled inside for warmth and maybe for his phone. It took him 10 hours to go 20 steps into his house and bedroom. I recall him saying that his phone was his "life line". Without it, he could never have called for help.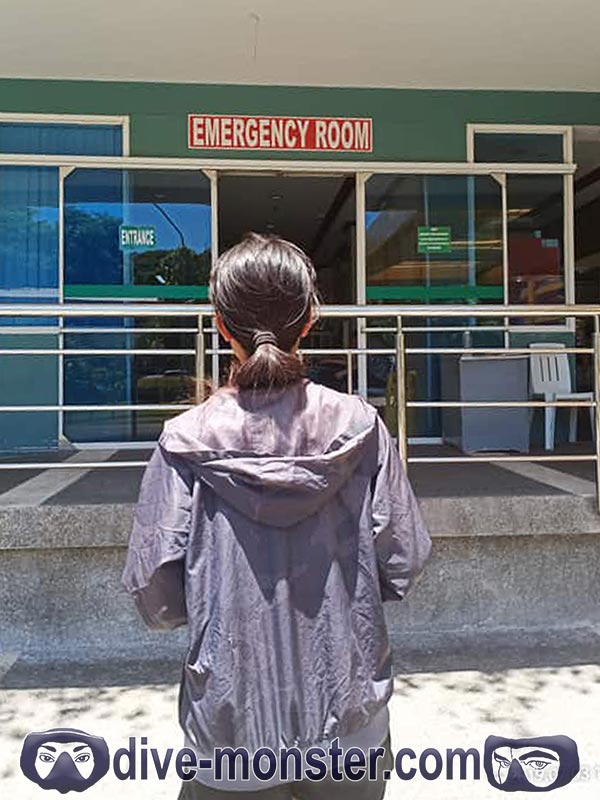 Calling for an Ambulance
(One Rescue)
While my parents went to Rumpelstilzchen's house, I called for an ambulance to pick them. I called Silliman University Medical Center and Negros Oriental Provincial Hospital and was disappointed. They couldn't dispatch an ambulance. I searched online as fast as I could and found One Rescue. I called them and gave them the details. In less than 10 minutes, they arrived at the location. They did a marvelous job and it was worth the Php 600 for the transport fee.
When my parents got there, they had to climb over the metal fence in order to go inside the house. When they got inside, they found Rumpelstilzchen under the bed with only his phone on his hand. The airconditioned was on and freezing poor old Rumpelstilzchen on the floor. They got him out and the in to the ambulance then to the hospital. Still in a bit of shock and stress, Rumpelstilzchen forgets where he is. So I left him a friendly reminded…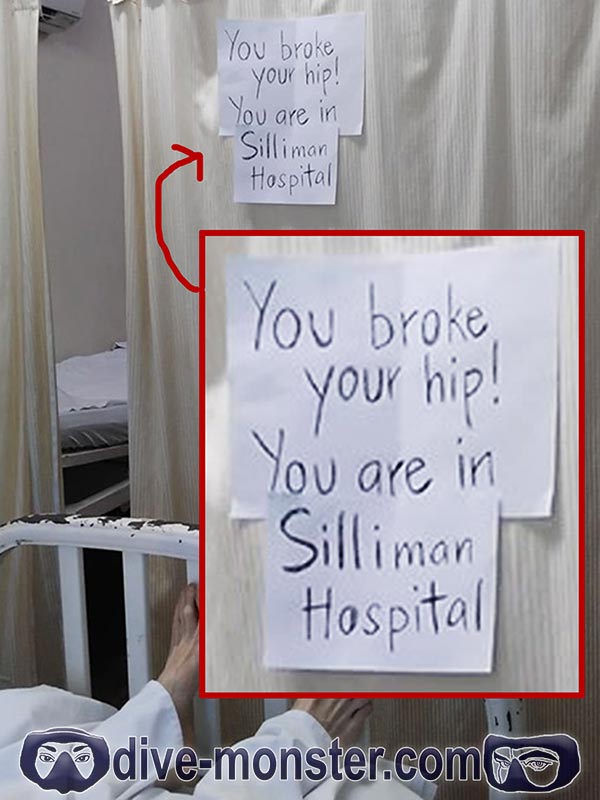 Mama Monster was the big hero of us all after that. She took care of Rumpelstilzchen in Silliman Hospital and sorted everything from rooms, medicine, arranging the surgery and everything else. Even after the surgery she made sure that he had proper food and enough drinks to help him recover.
Hospital "Food" ???
Talking about recovering..one needs proper nutrients and a good diet based on his or her health status. However, in Silliman University Medical Center, what they consider "food" is a bit disappointing and shocking. For paying thousands of pesos, their breakfast, lunch and dinner meals aren't the best. Food from the local cafeteria or eatery would look and taste better.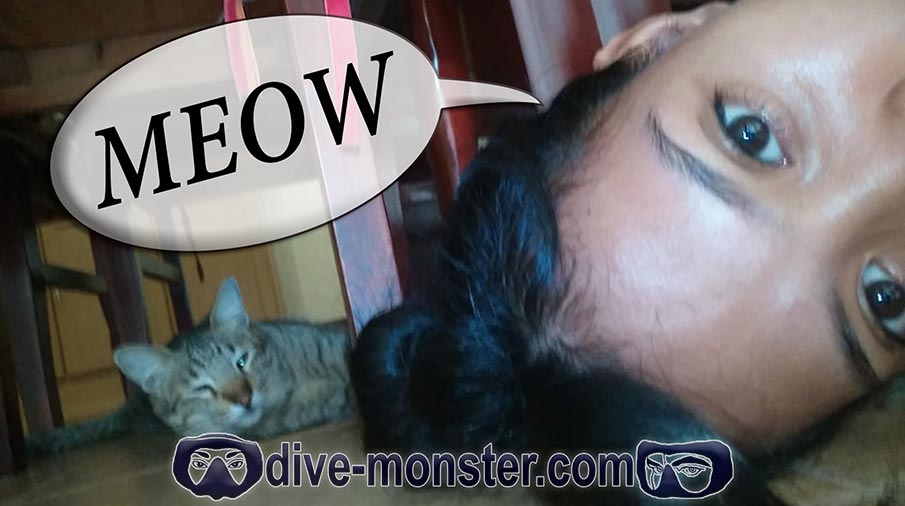 Daisy the Cat Whisperer
As mentioned earlier, as the real heroes worked, I had to take care of Rumpelstilzchen's cats. There is a saying that goes, behind every hero, there is a sidekick who does the little things. In this case I had to take care of his three cats; Chevron, Circle and Corner. I slept in Rumpelstilzchen's house for a couple of days and had to feed the cats. The cats only eat canned tuna flakes in brine for breakfast, lunch & dinner. Sometimes they get other cat food like canned salmon. For snack they get five tiny biscuits each and a big bowl of fresh water.
At first, I thought that they looked the same. After a few hours with them, they each showed their personalities and their cat ways of saying hello. Chevron for example is likes grinding on your legs and arms even when you are in the bathroom. There was also a case where I opened a cabinet full of canned goods. After getting stuff, I closed it. A few minutes later I heard scratching and meowing hahaha. Poor little kitty got stuck in the cabinet. Chevron also likes watching you take a shower.
Circle on the other hand is the gentlest of them all and has the thickest fur. He would just lay somewhere and sleep there. When it's feeding time, he would wait patiently on the floor for his portion. He's also the shiest one, and it takes time until he allows you to even a few feet close to him. Out of all the cats, Circle also has the smallest set of eyes. He looks like a Chinese cat.
The youngest out of the three is Corner. At first this cat was just a brat to my eyes. It would hiss and give me an attack stare if I got even a meter close to it. Corner's tail looks like it was snapped in two then put back together. It also has the biggest set of eyes.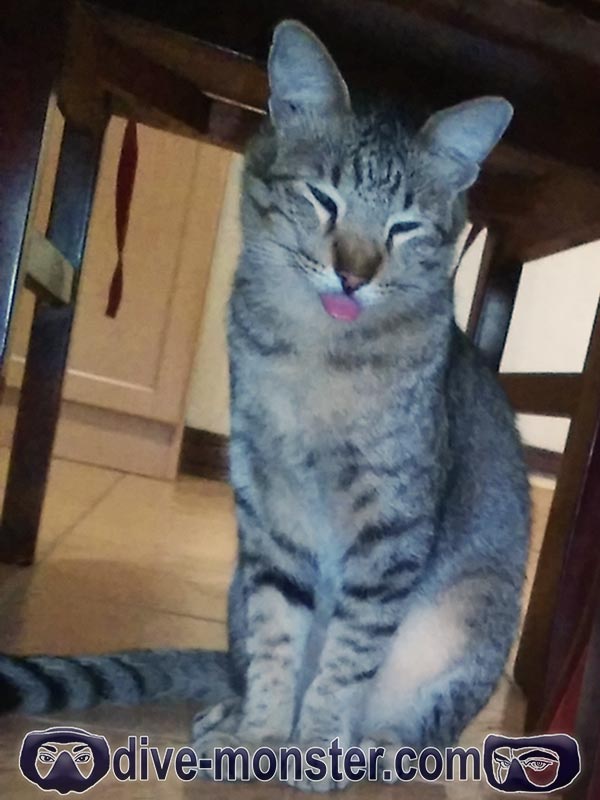 Other than that, I basically had to take care of the whole, cleaning it, and making sure things are working fine. Over all, the experience of being a cat whisperer wasn't as bad as being in the hospital with a messed-up thighbone. Taking care of his three little cats is the least thing I could have done. After all, that's what friends are for. We wish Rumpelstilzchen for his fast recovery.
Love,
Daisy💖