The reason why we had to sleep early was that we had a long day ahead of us. We planned to go to Lantau Island, another island a little bit further from Hong Kong Island. The day was not as sunny as the preview's day; however, we made the most of it. After waking up and having just a cup of coffee, we took a subway, train, MTR (whatever you guys call it) to the Central. After reaching central we took the route that will take us to Lantau Island, specifically in Tung Chung.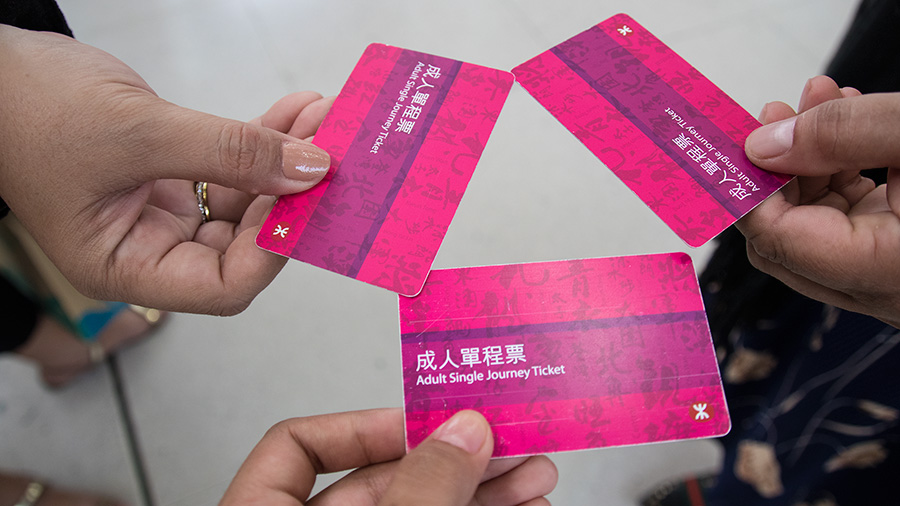 MTR, Subway or Trains in Hong Kong
For the record…this is my first time riding a train. The whole experience of riding a train may be pretty normal for most people. But from where I come from, we only take tricycles, jeeps, easy rides, and buses (for long distances on the island). So, you see, the whole experience was new for me. I know how things work because I spent hours of research and reading on the MTR Hong Kong Website…always come prepared! 😉 We took the train from the Central to Tung Cung and arrived at the MTR Terminal there.
Ngong Ping Village & Big Buddha
From the terminal, we took a cable car ride going to the Ngong Ping Village. We took the more expensive cable car ride called Crystal Cabin where the bottom part of our ride was only made of glass. It had a better touch of thrill to it and we all enjoyed it! We went to explore the little village (more like shops over shops). We then went to the Buddhist monastery called Po Lin Monastery and then climbed the 268 steps to the Big Buddha statue. As mentioned earlier it was not the brightest and sunniest of days. However, the fog gave our pictures the dramatic look.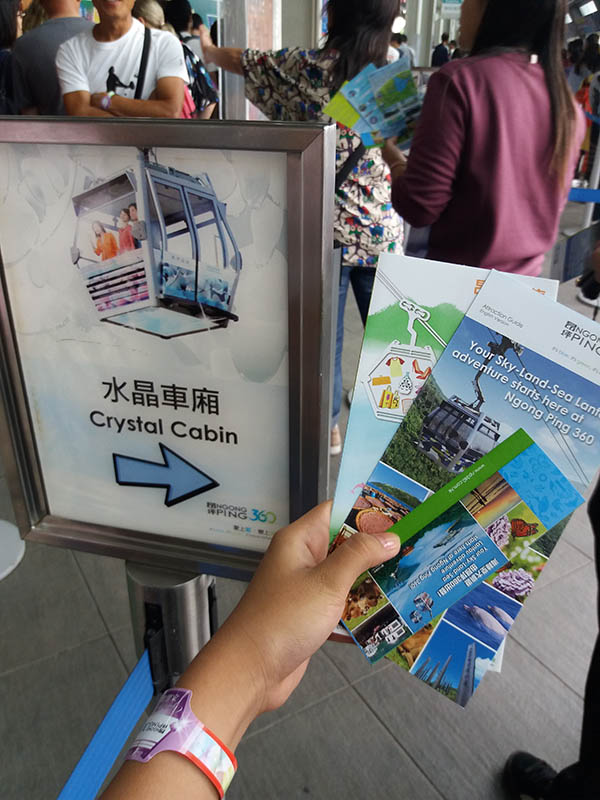 There were dog and cows everywhere you go. The place also smelled cold and fresh but with a touch of smoky scent from the incense. It was overall calming and rather spiritual just being in the little village. We walked around some more and looked if there was anything of interest. We were rather on a budget (but not tight) and we didn't check the theatre or movie house they had. We did, however, get to different jewellery shops (yes, we are three chicks…shopping is like our automatism). We also checked out their traditional tailor shop where they sold traditional Chinese dresses called cheongsam for around HK$ 1,800 – HK$3,000!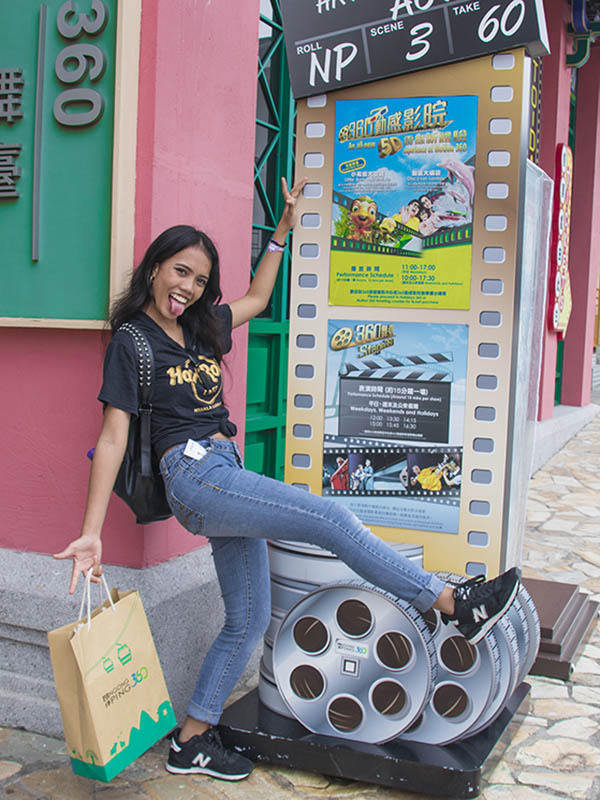 After window shopping and walking around we had a nice lunch at one of the shops and grabbed some sweets. While we were at the Ngong Ping Village we also bought some souvenirs for our friend's ad family. Before catching the next cable car ride, we sat near a bench and enjoyed as the sun slowly peaked through the clouds. It was getting late and we still wanted to go back to Hong Kong Island for the Victoria's Peak…so off we went to catch the next train to the Central.
Victoria's Peak & Tram Ride
We got out of the subway and found ourselves near Charter Garden. Only walking distance to the Peak Tram going to the actual Peak. Upon arriving at the ticketing booth, we were rather shocked and drained. The line was soooooo long ! Going on zig zags the people just kept coming. If you plan to go to the Peak, we suggest you book your tickets ahead or go to the ticketing early.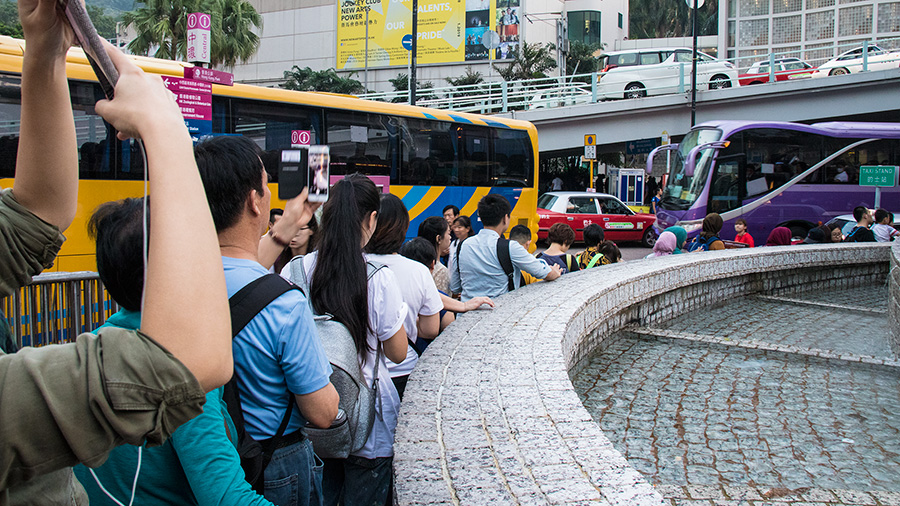 We FINALLY got out tickets and waited patiently for the next tram to arrive. We go on the tram and a ride like no other! We were going uphill and not like the world has wrong but everything we saw outside the window was tilted. It was a funny and amazing thing to see. The view of central Hong Kong tilted!
 We arrived at the Sky Terrace of Peak where we had a great view of Central Hong Kong overlooking Kowloon. Just like in our Kowloon View, the buildings lit up and were like sparkling gems. The air up there was full and fresh that you could just sit there for hours. Sadly, they sky terrace only open from 10 am – 11 pm every Monday to Friday and 8 am – 11 pm every Sat, Sunday and Public Holidays. At the Sky Terrace 428, we bought our souvenirs such as key chains, shirts, bags, chopsticks, bottle openers, necklaces, teaspoons and a whole lot more! We spent around HK $500 just for souvenirs! (of course, we didn't buy!)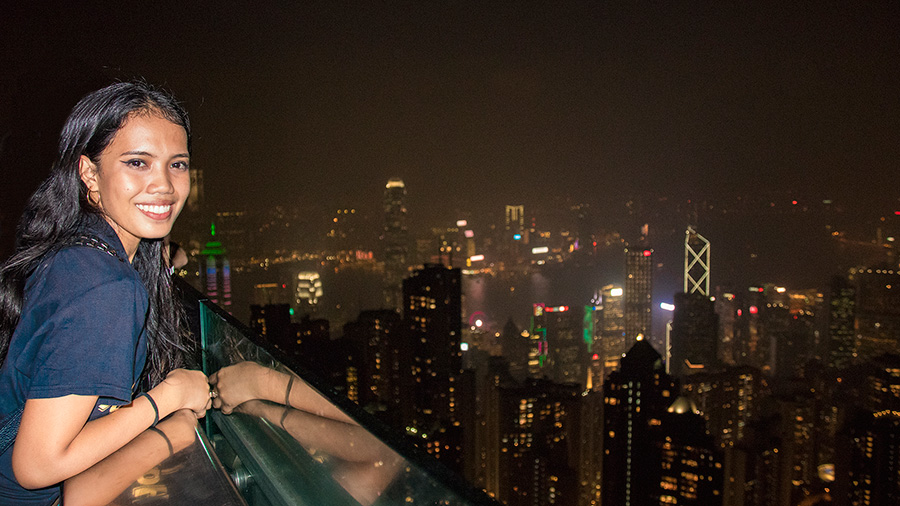 It was rather a long day and our feet were totally worn out. Good thing we didn't wear any heels! The trip to Lantau Island was great. I had a chance to pray at a Buddhist temple and I got to ride a cable car and train for the first time. The Victoria's Peak was also dope but could have been a little less crowded..just a little. The souvenirs we bought from the mall were not too expensive so we bought all sorts for a total worth of HK $480. We bought keychains, teaspoons, t-shirts, calendar, bottle opener, and a lot more.
Right after getting down tram we took a taxi and went back to the hotel to start packing up. Our flight for Hong Kong to Manila the following day will leave at 7:10 am (which means we have to be at the airport 2-3 hours before the flight). There will be no sleeping from there until we get to the plane bound for Manila to Dumaguete City. Hayyyst good thing I brought some face mask for relaxing my face in between. 😉