We are back with another Food Trip in Dumaguete City! This time, we ventured into the Vietnamese-inspired cuisine of Mister Saigon. It was a special Mother's Day celebration without our Mama Monster. Don't worry, she was with her friends eating cake. Since she was too busy, Dive Monster Sr. and I decided not to waste the opportunity and escape the house for a quick bite. That's when we stumbled upon 58 EJ Blanco Drive.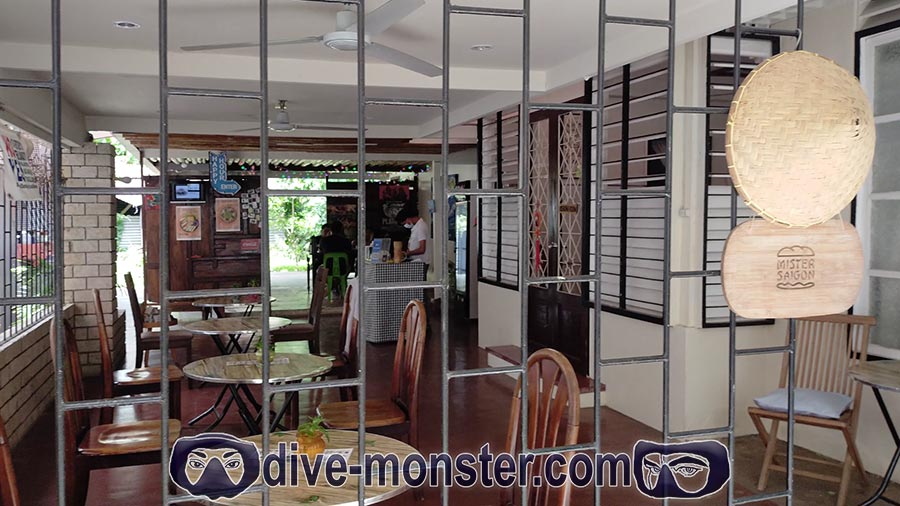 Upon entering, we immediately noticed a few downside of the place. We drove our car, and it was hard to find a parking spot. We ended up parking along the street fronting the fence of the restaurant. Another downside we saw is that the place does not offer airconditioned rooms (at least they didn't offer us). It was high noon and was fairly hot. We did survive with their ceiling fan, but if you aren't used to the heat, it can be an inconvenience. As you can see in our video below, my face is shiny from sweat.
Order for Two
A very friendly waitress took our order: Pork Cha Gio, pork Bahn Mi, mini chicken Bahn Mi, mini pork Bahn Mi, mango juice, lemongrass tea, and pork Bun Cha Gio. That should be enough for two people, right?
Lunch or Snack?
Our orders came and we started munching away. The Cha Gio or spring rolls were alright. I was expecting more filling or at least bigger. They serve five pieces for Php 129 (US$2.50). Now, I know this is Vietnamese spring rolls, but I can find cheaper (and personally better) spring rolls for only 10 pesos or less in Dumaguete. Then again, they were a nice touch to our meal. We also ordered Bahn Mi which is basically a Vietnamese sandwich. Both DM Sr. and I prefer the chicken sandwich than the pork. We also had a noodle dish called Bun Cha Gio. It had some finely cut vegetables, 2 spring rolls cut in half, and thin white noodles. Not a big noodle friend, so it was a no for me. Didn't give me much.
The drinks were also okay. Mango juice tasted like…mango juice. Dive Monster Sr. liked his lemongrass tea. Despite having our tummies filled, it still felt like eating snacks than actual lunch. We definitely had enough room for a big glass of ice cream.
Mister Saigon Experience
Overall, the experience was nice. Got to try out a new place, leave with filled bellies, and celebrate Mother's Day…without mother. I won't highly recommend it because there are other places worth visiting. However, if I feel like getting a quick Vietnamese sandwich and lemongrass tea. I know where to go! If you feel like trying it out yourself, go for it. We can't really tell you what to do.
Watch Mister Saigon Dumaguete Video here:
Anyway, will we come back to Mister Saigon? Hmmmm, only time will tell.
Love,
Daisy