After a night of fun at Gloria's Fantasyland, Tim and I rested for the long day ahead of us. We decided to visit the nearby city of Dipolog, which happened to be the capital of Zamboanga del Norte. For the second day of our Dapitan Trip, we will be visiting the Rizal Shrine and Rizal Statue first and then to Dipolog City. If you missed out on our first day read: Dapitan Trip (Day 1: Gloria's Fantasyland & Kamayan ni Manay).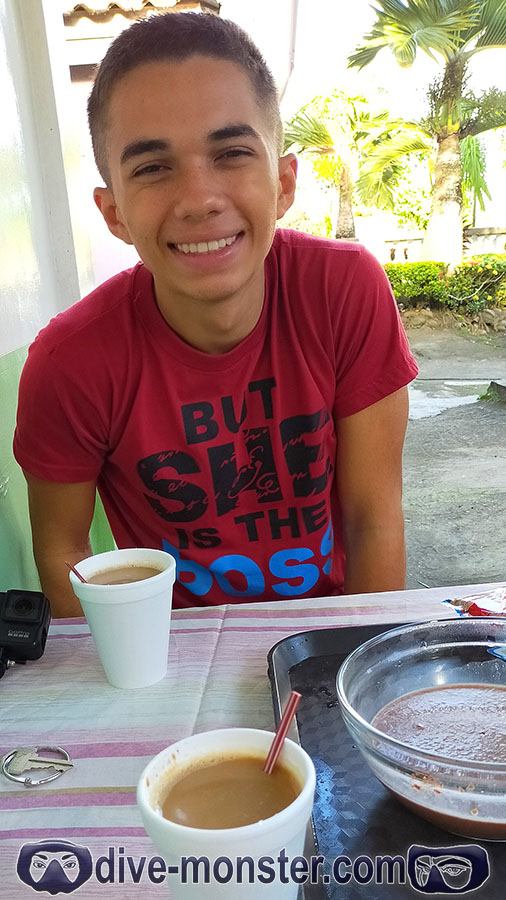 Sleepless Night but Beautiful Morning
If you read our previews article, you may recall me saying "bring extra toiletries and hygiene stuff". Apparently just after a few hours after Tim and I went to bed, we felt hot (not in a good way). We had an air-conditioned room but we were feeling hot…and ill.
By one o'clock in the morning, Tim started throwing up and having the shits. This almost ruined the whole day, but we managed to push through with some medicine. So, we got out of bed around 7:00 am and had breakfast (coffee and oatmeal).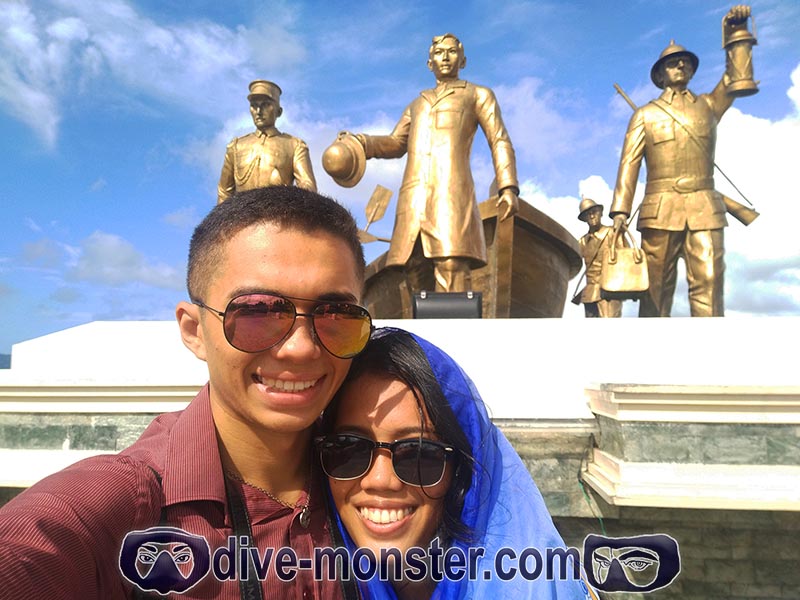 Rizal Park, Rizal Statue, Rizal Shrine – Everything is RIZAL!!!
After breakfast and shower, we got a small tricycle ride going to the nearest pharmacy to buy some medicine. Then we walked a few meters to the Dapitan City Plaza where Dr. Jose Rizal stood in the middle. We also visited the St. James Church. After that we went to the "Punto de Dissembarco De Rizal en Dapitan" or the monument capturing Rizal setting foot in Dapitan. It is a glorious golden statue with the beautiful sea behind it. We were lucky to have such clear blue sky that day.
After a quick drop by the Rizal monument, we took another tricycle ride going to the Rizal Shrine. Tricycle rides usually cost Php 8.00 per person (about $0.16) for city area. Upon arriving at the Rizal Shrine, we had to log in at the guard house.
The Rizal Shrine and the Rizal Museum are for free; however, they do ask for donations for maintenance and etc. Back in 2013, we had a tour guide showing us around the museum and all. Sadly, they did not have them this year. Even sadder, the Rizal Museum was closed. We did not have the chance to see Rizal's clothes, paintings of his concubines, and his desk.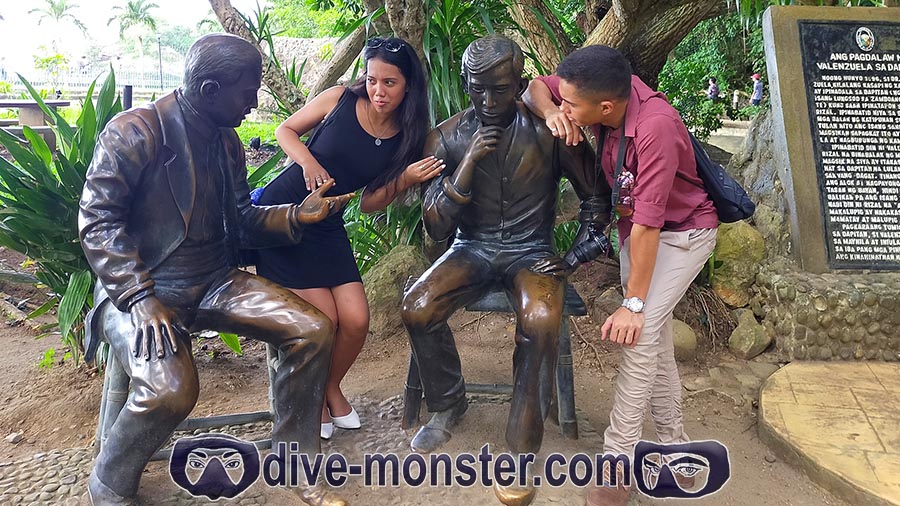 Tim and I …trying to have a conversation with these two…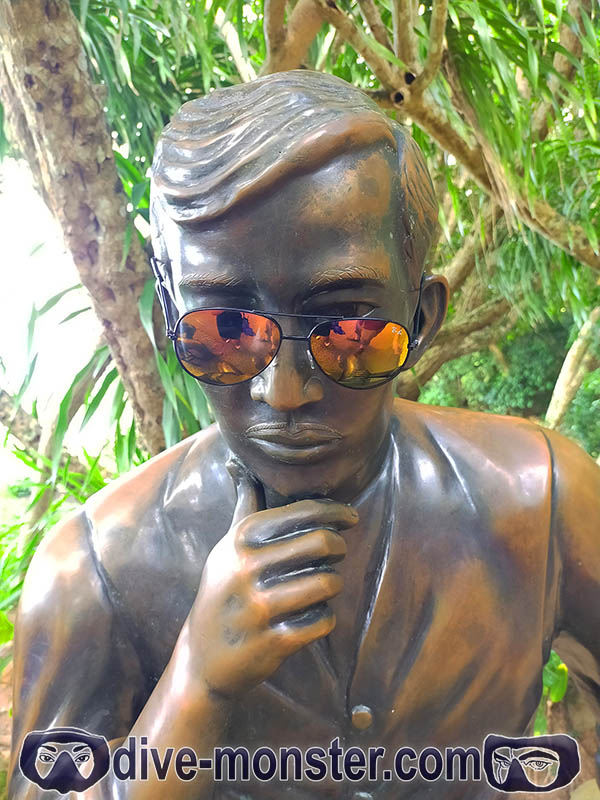 Brief History of Dr. Jose Rizal in Dapitan
Dr. Jose Rizal is the national hero of the Philippines. He is well known for his work in literature, which gave hope to many Filipinos to start the revolution against the Spaniards. He was sent to exile in the year 1892. This is why Dapitan takes pride on showcasing Dr. Jose Rizal everywhere (plaza, municipalities, monuments and etc.)
We then walked around and took some pictures of the Casa Residencia (where Rizal used to live), his dirty kitchen, his workshop and more. We just walked around like sweet couples having a fun around the park. After that we were set off to Dipolog!
How to Get to Dipolog City?
There is one terminal where you can find a cheap transportation from Dapitan City to Dipolog City. It is just one tricycle ride away from the Rizal Shrine.
The EVERGOOD Transit offers two different kinds of ride, air-conditioned and non-air-conditioned. Regular fare for non-air-conditioned bus is Php 25.00 (about $0.50) and student fare is only Php 20.00 (about $0.40). Regular fare for air-conditioned bus is Php 30.00 (about $0.60) and student fare is only Php 25.00 (about $0.50). The terminal can be found in the public market of Dapitan.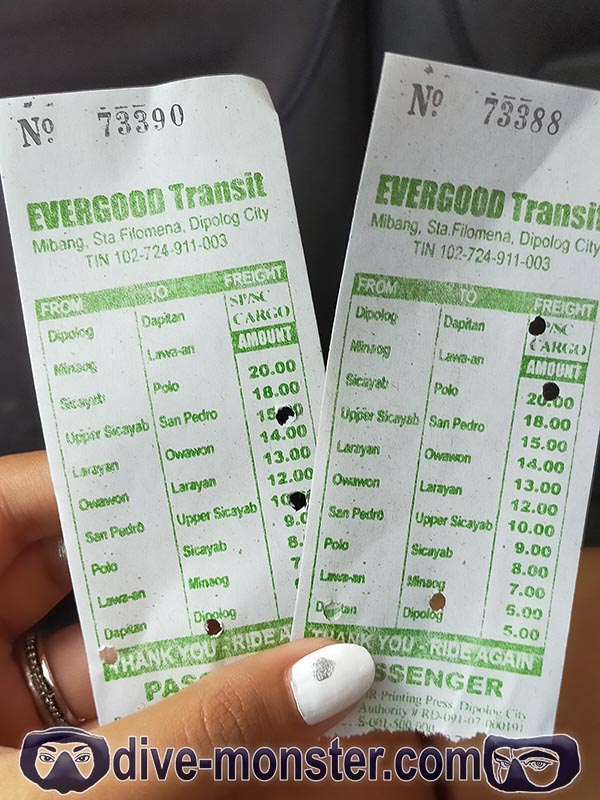 In order to get to Dipolog City, we took the non-air-conditioned bus. We got off near the Dipolog Rotunda and had lunch at Jollibee. We just wanted to be safe, hence, we did not eat any street food or eat too much. Tim had a burger, while I had spaghetti and chicken. It was still pretty early so we went to one of the shopping centers in Dipolog. We went to Lee Plaza City Central and bought fruit cups and more water. We roamed around the mall and made critics about the difference of the Lee Plaza in Dipolog and Dumaguete City.
Massage Chair & Coffee
While roaming around, Tim and I found some massage chair. Php 20.00 will give you 6 minutes of massage, Php 50.00 is worth 15 minutes and Php 100.00 is worth 30 minutes. We sat there and had a total of 21 minutes each. Bzzzt bzzzt bzzt! (my onomatopoeia for a massage chair). It was more relaxing than I though.
After that, we went down and walked to grab some coffee. We ended up going to Our Lady of The Most Holy Rosary Cathedral and the Magsaysay Park instead hahaha. When we got to the church, there was a wedding about to start. So, we only had the chance to take pictures outside. Although Tim was wearing a polo, and I a dress, we could have blended well…we decided not to be a Wedding Bomber. Therefore, we went for a walk in the park. We went around the Magsaysay Park where all the other love birds were roaming around too. Christmas spirits and decors were everywhere so we took the chance for pictures! Turns out there was a nearby coffee shop, so we had some coffee and just relaxed.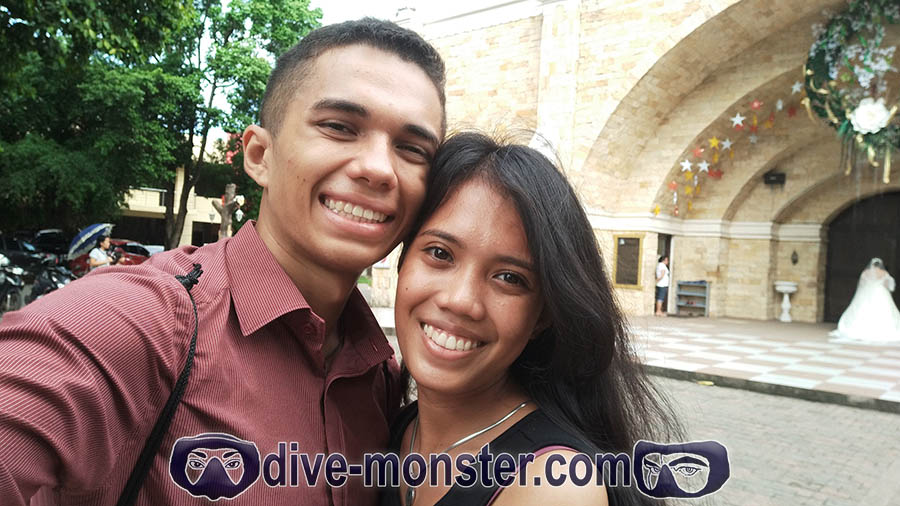 Excuse me bride…you are photo bombing us xD
Dipolog Sunset Boulevard
Around four o'clock Tim and I decided to start heading to the boulevard. We started at the Sta. Cruz Marker (a cross in the middle of the road). We walked around the barbeque stands or night market stands and then to one of the benches. We sat around soaking in the heat of that lazy afternoon. We walked a bit further up and saw so many coffee shops, milk tea shops, souvenir shops, street food, fresh fruit shakes, small playground, basketball court, and more. The Dipolog Sunset Boulevard is 1.6 kilometers of pure awesomeness. We saw people swimming and skim boarding at the beach. There were also kids on bicycles and roller blades (I'm guessing they were for rent somewhere).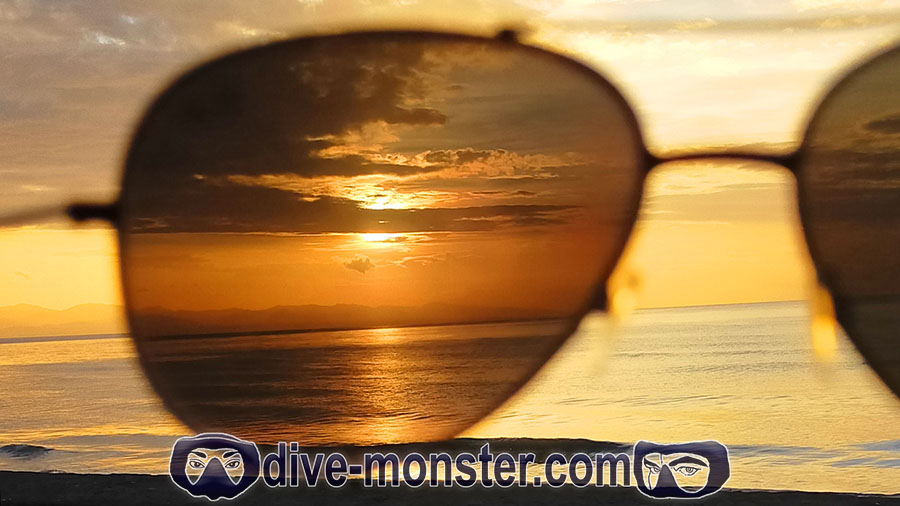 We waited until it was finally sunset and AHHHHH such beauty it truly was. We were lucky that it was a clear day for a perfect sunset.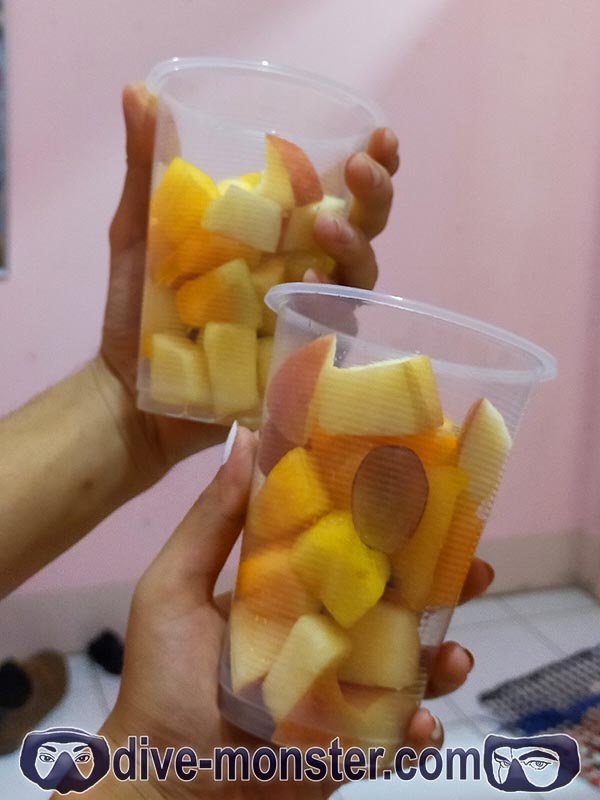 Tim and I went back to Lee Plaza City Central to grab some more fruit cups for dinner then headed to the Dipolog bus terminal. For getting home, we took the air-conditioned bus. We paid Php 60.00 (about $1.18) for our bus tickets.
We arrived at Dapitan and headed to our accommodation to get some well deserved rest. WE then eat our "dinner". It was rather a tiring day for use, despite the fact that we did not walk a lot. We are getting old!
More Balls in the Hole Game – Bowling & Billiard
After eating our fruit cups and hydrating ourselves, we went out for another game of bowling and billiards. It was our last night at Dapitan and I was already missing it. So, I savored every second of it with my beloved boyfriend playing two sets of bowling game (he won both) and billiards (he won again). We walked around Gloria de Dapitan once more with the December breeze flowing through our hair. It was getting late and we were a little hungry and tired. We decided to have a bite to eat before heading back to our rooms.
Last Supper at the Kusina Restobar
Kusina Restobar is located just walk distance from Gloria de Dapitan and of course to where we were staying. The place is more of a drinking place with some "pulutan" of snacks. They also have Filipino dishes as well as different sandwiches. They also have budget meals and free delivery within Dapitan city limits. We ordered a bowl of hot chicken soup called tinola, calamares, sisig and rice. After eating, we were off to bed!
How much we SPENT for this day?
Here is an estimated calculation (we lost track of some receipts) of our DAY 2 of the Dapitan Trip.
Php 160.00 – (Php 16.00 x 10 tricycle rides)
Php 45.00 – non-airconditioned bus Dapitan to Dipolog
Php 239.00 – lunch at Jollibee
Php 128.00 – fruit cups, water & chocolate
Php 230.00 – coffee at Bo's Café
Php 65.00 – fruit cups
Php 60.00 – air-conditioned bus Dipolog to Dapitan
Php 470.00 – 2 bowling games & 1 hour billiards
Php 480.00 – dinner at Kusina Restobar
Php 500.00 – second night at the Villa Pilar Pensione
Php 2,377.00 – TOTAL (2 persons)
If you are traveling alone, here is an estimated sample of how much you can spend for visiting the Rizal Shire, going to Dipolog, eating and bowling:
Php 80.00 – (Php 18.00 x 10 tricycle rides)
Php 25.00 – non-airconditioned bus Dapitan to Dipolog
Php 120.00 – lunch at Jollibee
Php 75.00 – fruit cups, water & chocolate
Php 110.00 – coffee at Bo's Café
Php 35.00 – fruit cups
Php 30.00 – air-conditioned bus Dipolog to Dapitan
Php 285.00 – 2 bowling games & 1 hour billiards
Php 220.00 – dinner at Kusina Restobar
Php 500.00 – second night at the Villa Pilar Pensione
Php 1,480.00 – TOTAL (solo traveler)
Honestly, I did not feel so good after eating late dinner. But I did manage to get enough sleep for the long journey home. Will I even visit Dapitan again? Of course!!! Do I recommend Dapitan City to anyone? Of course! It's a great place for 2-3 days' vacation with friends, family or your loved one. For now…it's time to get some Zzz.
Read more about Dumaguete – Dapitan Ferries here!
Love,
Daisy