Legendary KISS made a stop at Tokyo Dome on December 2019 during their "End of the Road" Tour. As there is a good chance to see them live, I paid the old men my respect and flew in from the Philippines. As it has been like forever, since I was in this city or even in Japan, I booked five nights in Tokyo. It is the biggest city on the earth. Just in the area where I stood was so much to see, that I could not finish my original plan. I also spent almost a whole day at the world-famous Shibuya Square, and another day just roaming around in the area including a visit to the wonderfully landscaped Koishikawa Korakuen Garden.
However, the main purpose was to see the four gentlemen live on stage at this massive arena, which is original an indoor baseball stadium and home of the Yomuri Giants since its opening in 1988.

The massive Tokyo Dome with a capacity of 55.000 people was the ideal backdrop for the greatest Rock 'n Roll Circus on this planet. There are many critical reports out there about Paul's voice and the aging stars. Now, I am not the world biggest KISS-Fan, but the band was part of my growing up in the early 1980s. I saw Kiss a couple of times over the years. All I can say, my decision to head to Japan was absolutely correct.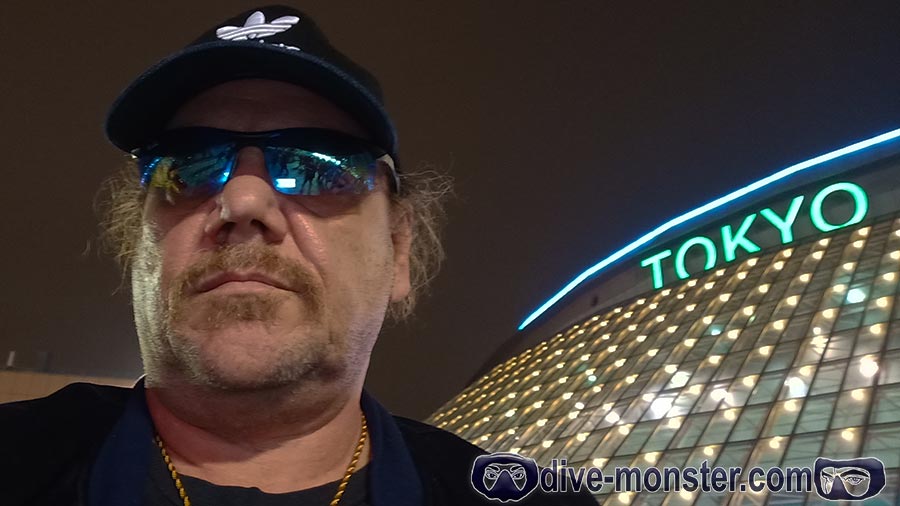 Kiss at Tokyo Dome 2019 – Merch-Madness
I took a walk to Tokyo Dome a day before the KISS Show. The venue was something like 15 walking minutes from The APA Hotel in Kudanshita, which was my home for five days. I simply wanted to get a bit familiar with the streets and do some sightseeing on the way. Kiss is very well known to sell everything what one can imagine, and a bit more. When I arrived at the Dome the day before, there were uncountable trucks delivering Kiss-Merchandising. Most of it specifically designed for Japan and even thousands of T-Shirts just for Tokyo. I met one of the local organizers, who spoke great English and we had a nice little chat. He told me, that the stands will open the next day at 10:00 am and will remain open until many hours after the show.
I was working in this business for more than a decade. I have never seen such a merchandising madness in my entire life. It appears, that even Kiss themselves were impressed and overwhelmed about the Japanese fans, as they even posted a video about the tremendous long queues even before lunch-time, something like 7 or 8 hours before the show started.
Fabulous Kiss Live at Tokyo Dome 2019
I left my hotel around 5pm, which gave me plenty of time to get to the Dome, soak in the atmosphere, enjoy the crowd and get to my seat. Time was actually flying, and I should have gone a little bit earlier, as there was so much going on. As one can imagine, Japanese were very disciplined after doors open. No pushing or cutting the line. Even the security was very weak. I guess they have the technique to check everybody falling in line anyway with whatever face-recognition cameras and other (for a guy living in the Philippines) completely futuristic stuff.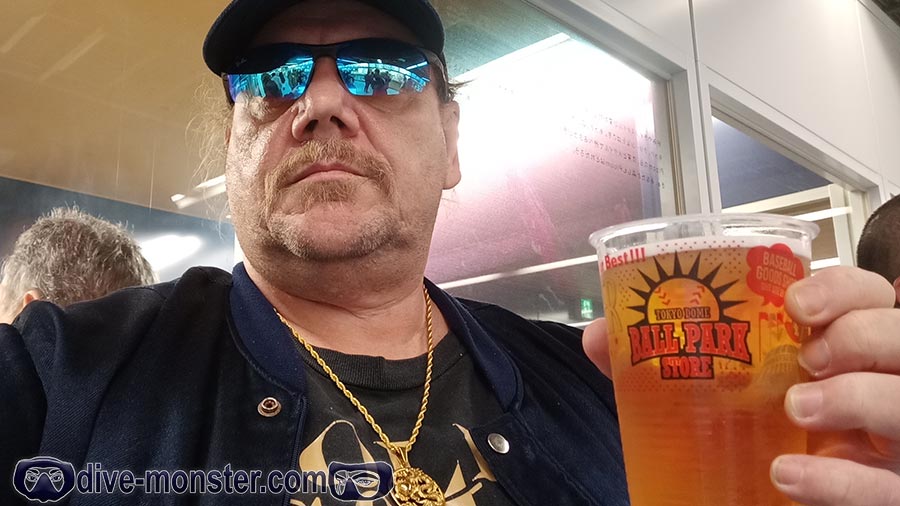 I was able to walk around Tokyo Dome and get into several blocks just to look a bit around, without even getting asked for my ticket. I guess that is like that in a country, where people simply obey the rules…. Unthinkable and never heard of in the Failippines.
You Wanted the Best… You Got the Best…
The show was not completely sold-out. But when the house-lights went off, 50.000 Japanese and a fat German made a lot of noise! The show started with Detroid Rock City and ended after more than two hours with Beth and Rock ´n Roll all Night.
During the last two songs, Kiss brought a Japanese Superstar, I never heard of, but his name was something like Yakumiro Tamagotchi, onto the stage who played the piano during Beth and the Drums during Rock ´n Roll all Night. That was the time, when the roof almost blew off the Dome, just from the cheering of the crowd. I left the Dome to the canned tunes of God gave Rock ´n Roll to you, and had a huge smile on my face.
The KISS show at Tokyo Dome was absolutely phenomenal. The End of the Road Show is exactly what I was expecting, and then a bit more. Two Hours of "Best of Kiss", paired with a bombastic stage and a show which was everything I wanted to see of this Band. Great lightshow, Gene spitting blood and fire, explosions, fire fountains… it was all there.
What was also great, was the Japanese audience. They were enthusiastic and celebrated the band. I was surrounded by three generations of Kiss fans. The youngest I've seen was maybe 6 years, the oldest in their 70s. Many were in their business suite, obviously headed to KISS at Tokyo Dome right after work. Those cheered and danced in a way, a western guy like me would have not expected.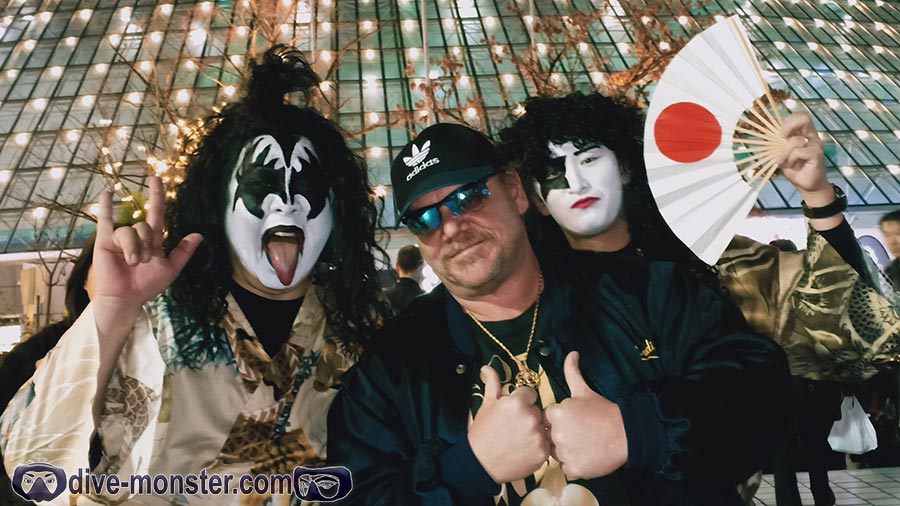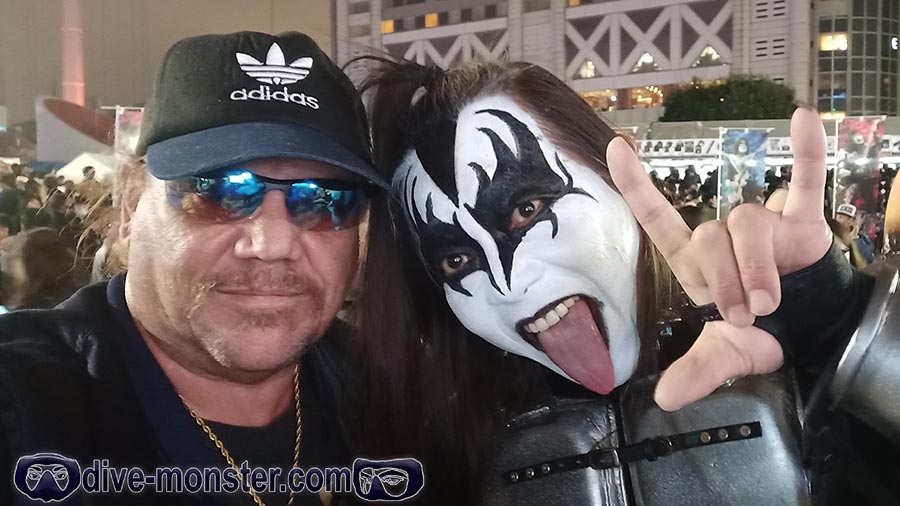 Overall, the Kiss concert was a huge party and worth each single cent I spent. I even felt in line to get some T-Shirts. None of it fits me and my size was completely sold out. But with some diet, I may get a few kilos off to wear it with a satisfying "I was there" feeling.
Cheers & ロックンロールオールナイト
Rhoody