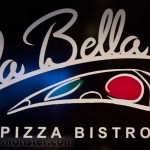 Italian Pizza at the Boulevard in, that was what we were hoping for when entering La Bella Pizza Bistro in Dumaguete. It appears to be a franchise of the Cebu's Origin "La Bella Napoli". The Bistro is just across Bethel Guest House at the southern part of the boulevard. The building was some years empty and after a few month renovations the new Pizza Bistro was announced already a few months back. The spacious veranda offers a nice view of the boulevard. However, due to the stinking trucks and trikes blowing out black poisonous fumes in "smoke-free" Dumaguete we decided to get inside. read more
So there has a new place opened at the boulevard in Dumaguete called Awesome Desserts. Like with each new place opening it appears that the friends of the house are asked, or volunteer to spam each related website and internet forum or facebook page to write down their one line "wow, best thing since sliced bread, you need to try their…". read more
Last Sunday I went with my Family to Mifune, a Japanese Restaurant in Dumaguete for a revisit. I have been there a couple of times, but I think this was the second time, or so, we went together. They adjusted the interior a little bit and it is more "Japanese", although the seats and benches are a kind of "cheap-ish" hammered together. Nevertheless a big improvement to our former visit… read more
After a year or so we went back to Captain Ribbers in Dumaguete. We, that is my little monster, my boss and I,… as the sponsor. The place is conveniently located in Silliman Avenue, close to the boulevard. Captain Ribbers had a bit a construction going on and has now an aircon area. I took some pictures, but some people didn't want their picture online and I respect that. … wonder if they  belong to the few who have no facebook-account or were maybe there with someone, they should not be with… read more
After about 2 years telling everybody who he is, the Pasta King finally opened the doors of a restaurant in Dumaguete City. I went there with my family to try if I can get real Italian kitchen in Dumaguete. Well, it was the first try and all I can say, it has not a lot to do with Italian kitchen. If Italian kitchen would taste like that, it would certainly NOT be very famous in the world. However, we are in a restaurant in Dumaguete and one needs to reduce the expectations quite a lot. read more
The Chili Bar in Moalboal is probably the place to hang out in the evening. Moalboal is in terms of nightlife pretty limited with only a few watering holes and I actually have no idea where all that online reports about the nightlife come from, but there is not a lot of it. read more
Like you can see, a full fat and almost smiling Rhoody with an empty plate is about the best verification of a nice dining experience you can get. Overall a great dining experience and nice to have a Thai Restaurant like Ti Ban Thai in Dumaguete.
We talk about Dumaguete City, where the choice of Restaurants is pretty limited and KRI Restaurant in Silliman Avenue is a very welcome addition to my style of having a bite to eat.
I had a great dining experience in Yats Restaurant and Wine Club a fine dining place with great ambiance.
Rechel and I decided to hit Sundown Restobar first, a place not that new anymore, I guess open around April this year.