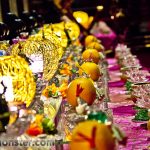 After the first day in the Marina Bay area and a more or less good night of sleep, we got up around 7am to have a shower and hit the road again. Breakfast was at one of the many Indian street kitchens in the neighborhood. I simply love some different kind of their breads and as many dips as possible. I struggle a bit with their sweet coffee, However, it is a nice companion to the spicy dips. read more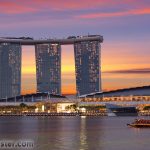 It was time to pack my Missus after a year of hard work and go somewhere for a few days simply to get out to a place where things are actually working, where there is no "Sorry, maybe next week" and without stupid excuses day-in and day-out. Well, there are not many places in the world, where things run as smooth and flawless as in Singapore. read more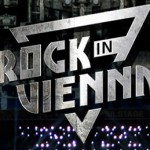 If two of your three favorite bands are headlining a 3-day festival like it happened at Rock in Vienna 2016, there is no other reason needed to fly around the half world to see them.  The three days had a cool line-up which fitted me perfect. Headliners of Rock in Vienna 2016 were Rammstein, Iggy Pop and Iron Maiden.  As I could not care less about Iggy Pop and actually all the other Bands on the second day, I had a great day of sightseeing. read more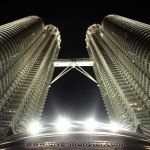 I am not sure why I love Kuala Lumpur, maybe because it can be everything, crazy, entertaining, fascinating, dirty and raunchy, modern and clean or traditional… Somehow there is everything….. and I love to be in the middle of it.
It must have been 20 years ago when I was there the first time. This time I went there with my missus, who has not that much travel experience. I booked a hotel in Petaling Street (China Town), where each night a rather crazy market awakes. It is also in walking distance to a lot of attractions in Kuala Lumpur (KL). read more
On our first evening in Dapitan, I went with my family to Gloria's Fantasyland in Dapitan and was more than surprised.
The place is spotless and very well maintained. A huge difference to the normal, rather scary, rusty, and squeaky rides you find usually in the Philippines. read more
Chicharon – an awesome, unhealthy spanish snack which goes along perfectly with a lot of alcohol and a bad-ass movie on the sofa at home. Now it wouldn't be the Philippines if they would not try to invent something new.
The Vegetarian Chicheron
No more greasy fingers, the taste of old fat which need to be washed away with beer or rim 'n coke. Just a boring crunchy chew without any taste. I run into it at Manila Airport when coming back from Germany. My intention was to get into my pinoy-mood right away and eat some local snack. Sadly, i did not read and just looked at the picture. And here is what they did: Taking a perfect Spanish Snack and killing it by taking out the main ingredients, which are: read more
So I left Dumaguete to visit my parents in Germany. My daddy turns 70 and that is more than an appropriate reason to pay a visit. It's been a while since I was in Germany; around 7 years and 30 kilos. They probably don't even recognize me anymore… I found a good flight to Nuremberg, where my brother will pick me up. From there it is just a 30 minute drive or so, to his house. The whole trip still takes about 34 hours from leaving Dumaguete to arrive in Bamberg. I brought a real boring book, that should let me sleep most of the time. read more
We decided our second full day in Singapore will be spend in the Zoo. The Singapore Zoo is considered widely as the best rainforest zoo worldwide, as the best is just good enough, that was the place to go. We figured out our route with MRT and Bus, which would take us about one to 1 ½ hours going there. The Singapore Zoo is a northeast of Geylang at the upper water reservoir and we would need to change MRT and Bus a few times. read more
Waking up in the morning, looking out of the hotel window for weather check, we made the decision to go to Sentosa, a popular island full of fun. A place you can't go wrong as a first time visitor to Singapore. My boss and I decided to have breakfast just around the corner in one of that little "hole in the wall" Indian eateries and take a bus to Sentosa. read more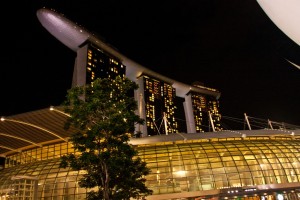 1st evening at Marina Bay
Before heading out on the first night, we were asked to pay our bill. I did not have enough Singapore dollar on hand, so our front-desk guy explained us the way to the money changer. Of course they were all closed, but no problem, I was sure to pass an ATM to get some more cash on hand.
read more