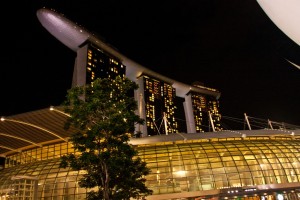 1st evening at Marina Bay
Before heading out on the first night, we were asked to pay our bill. I did not have enough Singapore dollar on hand, so our front-desk guy explained us the way to the money changer. Of course they were all closed, but no problem, I was sure to pass an ATM to get some more cash on hand.
read more
It was time for another VISA Run abroad and I decided to go this time to Singapore. One reason of that decision was to bring my boss Rechel, who never was outside the Philippines and I thought it might be nice for her to visit a clean big city or in the case of Singapore a country. She knows Manila and Cebu so has an idea about the big stinky cities in the Philippines. read more
At 12:45 we arrived at Tipolo Beach Resort in Moalboal and checked in. We got informed that the rooms are not ready, and it is brownout, which was no issue, the official check in time is 2:00pm and as it was not that hot and we were hungry anyway, we decided to have a bite to eat at the Last Filling Station, the Restaurant which belongs to the Tipolo Beach Resort. read more
Trip to Moalboal from Dumaguete
After a short cut trip to Angeles in January cause my little Daisy was in the hospital and I needed to fly back home to Dumaguete, I decided to meet Kim and some friends in Moalboal, where he went with some friends. Moalboal is about a three of four hour trip with public transport from Dumaguete on the west coast of Cebu. read more
After our 5-Star experience with Delta Ferries Kim, M&M and I finally arrived in Larena on Siquijor where the driver of Charisma Beach Resort was waiting and took us the last 30 minutes to the resort. It was dark already, so we did not see anything of the praised sunset. read more
Not all things can be predicted when planning a trip, anyway if you ever wanted to find out what is the closest to human water, continue reading this article.
. Not many people know that Negros has its very own Chocolate Hills. They are not as many as the world famous chocolate Hills in Bohol.
1,5 and a half burgers I was ready to roll to the Mall of Asia for some shopping before meeting the guys again for watching Avatar. Well, of course not without having "lunch" with another burger at Wendys…
the bill was just over 100 US$ !!!! for a pile of crappy burgers, boob-less waitresses and oily carrots. I definitely will put Hooters on my "been there, done that, but never again"-List.
Jack Sterling's Bohol Insider is in my opinion by far the best Travel Guide about the beautiful Island of Bohol and helped even me… and I am living since 8 years in this lovely country.