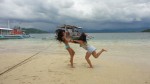 My little monster had birthday on Saturday and I was thinking, like at each whatever-celebration, where one has to give presents, what to give her. Earlier that week I followed several discussions on dumagueteinfo.com about outstanding tourist destinations in Negros, that Bais is basically worthier than any other place in the world and a guy who is in Valencia, writes advertising for Bais on the Forum mentioned above but  stated:
FYI my mother is from Bais so I know the city well, but I live and work in Valencia. You will find me here in Valencia town square most Monday mornings if you want to meet me. You can't miss me. Just mention my callsign.
As there was an additional scheduled brownout on Sunday, I was thinking that a Dolphin trip would be fun for the whole family. It's been a while since I have been there, and my little minsters have never been to Bais anyway. Coincidentally one board member had the same thought to escape the brownout and organized a boat for a trip to the dolphins.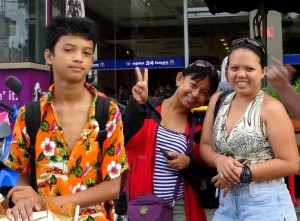 12 guys and girls met at 6:30 in the morning at the "Golden Archers" downtown Dumaguete and after a Breakfast we swung our butts on the bikes to head towards Bais Where we met our tour guide at the market building. By the Way, as nice and impressive and modern the market building is, it appears to me like a big waste of taxpayers' money. There is much more important stuff which could be fixed before having a "monument" like that. However, it is very clean and well taken care of, including the CR, which is not normal for most communities in the PI, well done !!!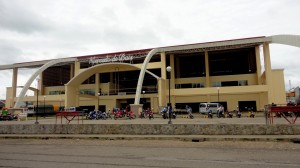 We met our guide at the market parking lot and "coincidentally" it is the same guy who lives and works in Valencia, who only has a mother in Bais. He obviously got wind that Larry organizes a trip and "suddenly" had a weekend-job as tourist guide in another city.
It need to be said, that he did a great job and was very helpful in any possible way! Compliment from my side, from my little family and I assume from the others of the crowd. However, that is not what can be expected from a "regular" tour-guide in this region, which are all nice but many don't have the resources and skills (language or organizing) to do a job like that.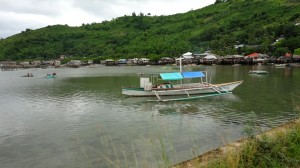 After some beer was organized we made it to the boat (some sacks of gravel on the way would be nice though).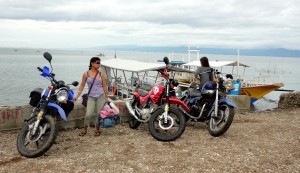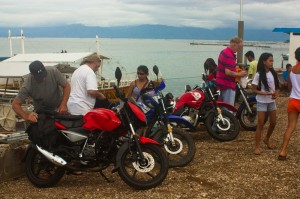 With a typhoon east of the Philippines, the sun was hiding behind clouds but the Tanon strait was (like usually this time of the year) calm and we were soon past the Sandbar in the open water. There were many dolphins around and it is just great to see them jumping around, playing with the boat and seeing the excitement in my families eyes.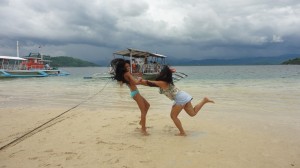 After that we headed to the Sandbar, which was due to incoming water pretty small, nevertheless, it was simply a great time and place just to hang out, having a beer and a beer and a beer, some picture taking and some Kayaking for the Kids.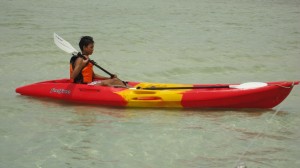 Occasionally the sun made also her way through some holes in the dark clouds and I tried to take some pictures of that kind of weird combination with the sunny spots and the dark grey rainclouds in the back.
And soon the storm hit us and we needed to head back to the pier to avoid worse conditions. Of the boat, my pretty sleepy little monsters took advantage to ride back to Dumaguete in the only car of the group, while the rest of us drove through the storm. Well, everybody can drive in good conditions.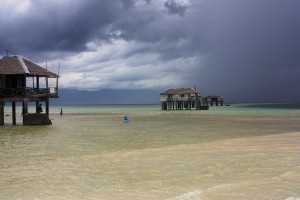 I like to drive in the rain, as almost nobody is on the road and at the end it is still warm here in the Philippines. At home everybody had a hot shower and was pretty tired.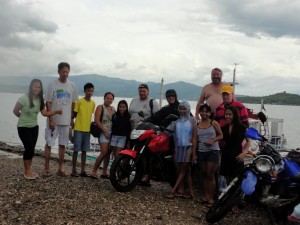 All in all a great day with some nice folks, sexy ladies, some cold beer, playful dolphins and most important: My two Happy Monsters!
So, Bais – Dolphin Watching and Sandbar in Manjuyod or Brownout in Dumaguete? you'll need to judge yourself…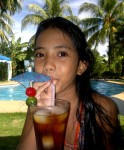 After Mia's Restobar in Sibulan just north of the Dumaguete Airport got praised on Dumagueteinfo.com like Christs second coming   multiple times, I used the last Sunday to pay another visit with my little family. I have been there before but it was a Christmas Party with buffet and beer from the cooler, so I can't really judge the place as we just had a lot of fun anyway.
To find Mias Restobar you make a right turn just after the Dumaguete Airport go along the wall, after 1.5km the road makes a right turn and 500 meter later you can see a blue-ish building on the left side, thas Mias. To get there (it belongs already to Sibulan) from Dumaguete will cost around 50 – 60 Peso with a trike. Another option is a easy-ride direction Sibulan/Amlan, and walk from the main the 2km to Mia's but that also cost you 15 Peso and we were 4 people, so the trike was the way to go.
We went there around 1.30 pm and according to the signboard, the Restobar has open from 1pm on and the swimming Pool at Mias from 10 am – 10 pm. Sitting in a sunny day at a bar in a Karaoke Joint with a pool-table is not my thing but for people who like it, the pool-table looks very good and the whole place is very clean and friendly. We went straight to the swimming pool.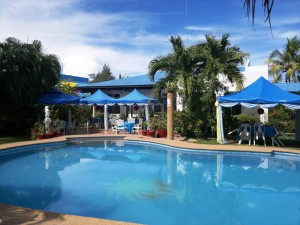 The pool area of Mias is in a wonderful garden and all seating areas are under small tents. Thos tents have a good quality and wherever you look, it is obvious that there is some love and work behind. I had problems to hold my 2 monsters back from entering the pool to order first. Our waitress was super-friendly what just fitted perfectly into the whole place.
We ordered Meat-Balls, Lumpia (Springrolls), Sinigang, Beef Roulads w/ redwine-sauce and mashed potatoes, Baby Back-Rips and French fries; that should be enough to get a rough overview of the food-quality, some shakes, coke and water against the thirst were ordered ahead.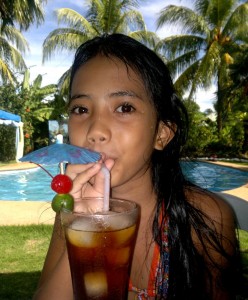 After waiting over half an hour, Rechel asked the waitress to bring at least my coke-light and a bottle of water as Rhoody really started to look dehydrated and finally those 2 drinks arrived, where emptied, and re-ordered immediately. This order came also before the shakes; those arrived just with the Meat-Balls after 1 hour and 15 minutes, which is in my opinion just a little too long for an ice-tea, a chocolate and a mango shake.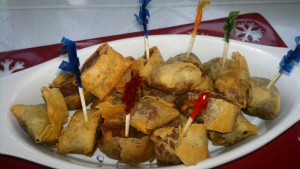 Anyway the Meat Balls for 120 Peso were fantastic and soon the Lumpia arrived. Those were a bit bland, but tasted fresh and fried in really hot fresh oil, not like many springrolls downtown Dumaguete where you can use them to grease a complete fleet of trike-chains with one order. A bit more salt would have brought out the taste of the filling.
The french fries were some of the best I had here in this area, obviously home-made, crispy and served with quality Heinz-Ketchup, not that del Monte crab or banana catsup…  really good, I would have eaten more, but my 2 monster chewed them away like there is no tomorrow. The Sinigang was also delicious and not too sour, absolute perfect for my taste.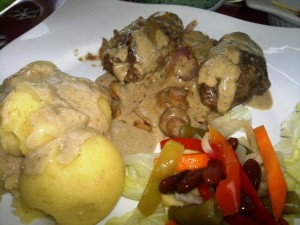 The Beef Roulads were ok and the meat soft and tender. The problem with that dish was simply, that it is supposed to come with redwine-sauce. That was one of the main-reasons why we ordered it, mashed potatoes and redwine-sauce, it almost does not matter what comes with that. Hmmm, but arrived with brown goo which had some canned mushrooms added. Well…. It is still Dumaguete, so you certainly should not expect to get what you order. I am sure you guys understand the disappointment when you look forward to something exciting and it turns out different.   Rechel still liked it a lot, so all is good and for just under 300 Peso it was a good value for money.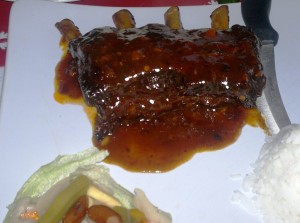 The Baby Back Ribs were also a good sized portion for less than 300 Peso. The meat felt of the bone and was delicious. The BBQ sauce was way to sweet and totally ruined the ribs as there was nothing more to taste than sweetness. I would love that sauce as a sweat breakfast spread on a oven-fresh bread-role. But tastes are different and the ribs had raving reviews from the US-crowd here in Dumaguete, so I assume that's the way they like it. For me was just no BBQ taste anywhere to find.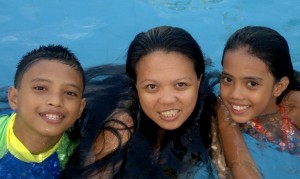 After our meal, we 4 jumped in the pool and had a great time at Mias. The depth of the pool is not for small kids without supervision. My two are 10 and 12 and can swim like fish, so no issue. For smaller kids I recommend close supervision as even the shallow part might be too deep to stand up for them.
We spend the whole afternoon playing around at Mias and had a wonderful time. When the sun started setting, we changed and started walking the 2 km towards the north highway. If you don't have an own vehicle you might have trouble finding a trike at Mias location as it is a bit off the track. I am sure the owner is able to call or organize one if you ask for. As it was a wonderful sunset, we enjoyed the walk and just before we hit the highway my friend Guenther (owner of Casablanca) picked us up on his way to work and took us downtown.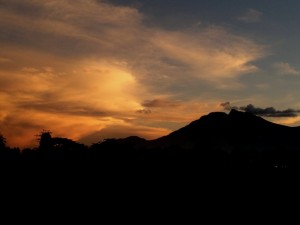 I really have some problems to judge the place in general, so I try it from different directions.
1st-summary: Many know that I moderate the forum part on Dumagueteinfo.com, so judging Mia's Restobar, I basically found almost everything what DI-members complain about Restaurants in Dumaguete City. Very slow service (remember shakes 1hr 15 minutes), dishes are different as described in the menu, prices are in a range that it is in the upper third of this region.  Would I go to Mias Restobar for having lunch or dinner? No, I don't think so, I get the same or better stuff in Dumaguete, so no need to "travel".
2nd-summary: It is a great place for small celebrations or going there with a bunch of friends to have some cold ones, playing pool, have a swim and a good time. Looks like a wonderful, friendly, clean place to get filled up and have fun with a couple of mates and some snacks in between. I am convinced that I will end up there once in a while with some friends for some booze.
3-rd summary:  Taking the family for a nice relaxed afternoon at a great place in a lovely, tropical garden, having a decent meal some cold shakes and a great time. Mia's is definitely a place to consider for doing exactly that. We had a great time at Mias Restobar and swimming pool that we four look forward to our next visit in Dumaguetes neighbor municipality Sibulan.
Cheers
Rhoody
Another wake up call to our Filipino people…?
There is  a lot of time I'm asking why  Filipino are like that…
"like what?….." Filipino are …..?????????
Yes.. I cant say…. "why" because I am also Filipina but still in the thinking stage why some Filipinos  love the show wowowee, and for sure not only here in the Philippines, some of our Filipino people are in other country…they are  called TFC subscriber.. they're  subscribe in a channel that they can watch the Television programs  here in the Philippines ,while they are out of the country and far from their families….
I experience watching this show wowowee on TV… its nice and sounds real…. Real as some of the contestant   tell their stories how life is difficult …  "again  sounds so much Drama diba?" but that's Filipino, its so hard for most of them to get apart from  their Family some of them are also Filipino workers in other counties….  As a Filipino, and like everybody else suffer of being lonely, alone and nobody to tell or  can voice out their problems, being home sick, and  the feelings how that its hard to get apart from your love one.
Thought watching this program they can see some Filipinos life and they can relate and see their self and similarities of life experience… … plus a change that they can see their relatives on TV performing witch not unusual to them, and show their talents.. and some of them they can really perform as they are not performer or its not their job in real life….. plus when the contestant speaking their dialect from witch province they from…. Its really sounds real and not descript but real person real life…   then trough this showing this talents on one of the games in this wowowee called  " welie of fortune "  its bring them to smile and happiness same as  for the audience too..and for those families aboard its gives them  encouragement to work hard abroad and stay still strong and not being lonely or home sick…
This wowowee afternoon program on Filipino channel is now the daily rotten and part of everyday living…. And even its has the record of having 71 people died and 800 were hurt and injured  according to the news report I've watch  and article I've read in other website,about the  celebration of Wowowee's first anniversary  instead of happiness  they speck it became a traumatic tragedy for the family of those who died and got hurt on the stampede out side the ultra the place where they will  celebrates their first anniversary….
I also watch  sometimes this  afternoon show,….But today, my attention was caught by Wowowee after  I watch again the news about  this tragedy  its  long time ago. But its still give pain and disappointment and ask my self  " why its happen"  I think its happen last  February 4 2006….. It just saddens me that the lack of discipline among some Filipinos could be the reason of other peoples death and  besides the fact that they could already see the people getting hurt and worst, grasping for breath, they are still pushing each other just to make it inside just to enter and be a contestant in this show.. its sad…. And ….
That  is way  more disgusting, and  because of puberty  I can't think of any other word to describe  this,it many Filipinos try their luck and hope that they can get money or prizes from this show… We could not blame the people who went there in the first anniversary  of wowowee in the hope of winning cash prizes even dough some of them went there just to have fun… but this all torn in to opposite happened.  This should be a wake up call not only for the government, but also to every Filipino, that we should do something to stop poverty and learn the meaning of word  "discipline". But I know I cant blame anybody as I also can't do anything to help and improve my self in the way I want for my self…  on other hand  and  after that tragedy  couple of years  ago its still not close case or unfinished case… .
But ,at the present, this show   wowowee make  some people  happy and give  good prizes from the games in this show. This tragic event  was the pass and I wish not to happen again in any event or programs for the futures… this shows wowowwee  would be the show of Filipino showing that filipino are strong and can fight for every tragedy comes in their lifes…. And even its really ,indeed many poor Filipino families here in this country.
We better think and do something for our self " Or we could help in our own little way " AND  we give our hearty , heavenly wish and  pray  for those who died and get hurt and for their families as well.
We make a new good way… and  we make many  reasons  why to be proud as a Filipino…..
Be strong and smart  with a  word "discipline" in our heart and daily life as a  Filipino…
Rechel
It's around 10am… I slowly get ready to prepare for food for lunch…
I make easy sandwich   for my boss snack … and I start cooking rice and easy Filipino style viand like fried fish and some boiled vegetable ready to deep in to the soy sauce….
When time comes that everything is cooked and tools for lunch are pack and its ready to bring to the school..Because I want that me and my daughter will eat together for lunch….
My daughter will be out for lunch at 12 noon.. Its around 11:45am I get to school and prepared the table for us.. I also ready the drinks she likes for our lunch… and some ready to bring snack for her healthy break at 3pm…
In the canteen… parents and some Yaya's or helper around…. It's so noisy there and busy…
My eyes and ears are also busy observing them…. Some are talking about their boss, text mate, broken road, traffic, expenses, dates, everything….
Its so much for me to hear… and I cant focus in what story of each of them I could stop and just listen…  so then I go to the side and set while take caring of the food I ready for my daughter and me. And at the same time continue listing to them….
Yaya said: my god my bosses are  hard to me and they are so hard   to understand, even small mistake they just get mad at me and no cares if we're in the public. My ma'am shout at me..And putting her finger on my face… while telling my mistake.. It's so embarrassing ….
The other parents also talking and one of them is complaining about her maid…
Boss said: hey friend I'm really not happy with my new helper now she is so stupid and no common sense… I ask her to buy some meat in the public market coz we run out of it… then its toke so much time just to get ready ,she take shower, wearing her white long pans and her new sandal… I ask her hey you know where you're going? "Yes ma'am" , so why your  out fit is like that? Its so dirty and wet there in the market  and I want that you don't take so much time just to buy some meat for  today's lunch….  "yes ma'am"
Boss said: then my maid  got home around 12noon…  my god she have to cook and ready the food before lunch but then, its so late now because of so much preparing her self and being over dress… she  is not going in to party, she just have to buy something in the wet market..….
All of those are very simple, but its wasting time… listening to those complain… complain both side…  that's what happen in the school canteen while waiting to there students to come out… then, they wonder why there is no good educations can school can teach there son and daughter…. ?
Its because they just let the time passing and wasting it while making so much chika chika…. Instead of searching..  the notes of there kids and have a look what the kids doing in school… talking to there kids heart  to heart , explaining  giving some examples just to vision what you want you meant to say  and make them understand how educations is very important… being a rule model to there kids and  let them understand there lessons.  And to let them understand not all lesson are by the book… they have also to learn by experience in life by being open eyes and aware not to happen to them those thing they know it will not help for there own and for there future…
truly your
Maldita
Life is easy, beautiful, wonderful and full of energy… Seems, everything is fine and everything is simple… that's the situations I saw when I pass in the small community..You will see in there appearance, face and how they're look, that these kids are happy…
The kids thinking…. Everything is no big deal…. Specially  if there  both parents are professional , have a good sources of income that they can give everything for their kids…  food,  clothes, good educations, enough time, family bonding, and sharing their thought…. Then I could consider it a really nice life…
In other part of the place within slum area … there also stories of some families, which are living in poor places….
Life is also easy for them, having rice and soy sauce on their plate, some beer while relaxing, watching TV, singing in the videoke, sitting on the street and having so much chika chika to their neighbor is their easy life… and at the end this family just show to there children how life is easy, no dreams, no obligations, no plants in life…. Each time of the day they are happy, being like this…
Its seems like even one of the member of this family have a  dreams and plan for their life nothing will work out as he/she  is alone for this dream he/she want for the future ….. How sad that life could be….? Then you will see the result, when He/she had a own kids but he/she cant give good future for them…… because  not everybody are gifted and lucky to have a family that can give more support financial , emotional , good educations, Love and respect from each of every one of the family…. How so sad to think that, why there is a kids hopping to have a real good life and happy family…. But there is no change…… it's just because, since birth he/she is in this life and situations? …
This is  the life  everybody  don't want to happen for  their own  kids… as long as we can do more just to hang  on and fight  for  leaving…. And be alive….
But what everybody should do if, they born in this kind of life and this broken family…?
And as a being a kid on that time they can't decide for there parents life?…
As also they don't know what life they could have in the future….
As they just don't have good education… the main reason that it's hard to find a better job with a good source of  income….
That they are in the place where you can't think properly … and asking why I have this kind of life… and….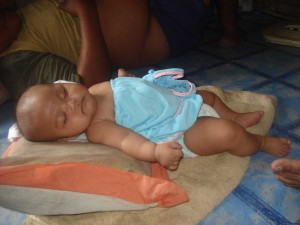 What life I can give to my kids?….
My daughter is so exited to her back to school and its her first day… as a kid she is happy that she have will meet again her old classmates and new friends as well….. We woke up very early, as we know the roads are broken and many under constructions… and that the main reason also that the start of this years class  is delayed and the vacations for students are extended.
Not only that is the problem, also the tricycle driver's here in Dumaguete are taking advantage of these situations…
As the road is broken some of this tricycle driver's ask for more rates of fare.., complaining, and just leave with out saying anything, and some of those are just run away… as long as they don't like the price you offer for them ….
It's sad … but it's happening right now in the city of gentle people…
My daughter   is sad, that maybe she get late in her school… and being exited to this first day of school her excitement turn out to become sadness, disappointment,  and then she cries….
I talk to my daughter and explain, that not all tricycle driver are like that and some of those are honest even we experience to be being ignored of this crazy driver's and to be not lucky to catch a honest, responsible driver and most of all a friendly and gentle man.. as we are in a city of gentle people… or maybe not …
Maldita
It's been long time that I logged on to make the continuation of my report of my visit in Tacloban. Its just make me feel bad because its make me more thinking of my son.
it seems like my son is just here with me, because when I was  passing at the public market, the young boy  vendor  want to sell some rags  and native fan ,he's eye are showing  of  bagging  and so emotionally.
The young vendor is about in my son's age, I don't want to buy  any of  the sale item he have ,but  I  also ask how much per small round rag he have and also big rags, as a start of our conversation. We had small talk, I ask him if he sold  out more of this rags ,  how long he is on the street selling  those things and some personal questions…All  of  my questions he answered.
When I get home , while I'm  arranging  all of my plastic bags from shopping ,suddenly  the rag vendor boy came to my mind, his answer and stories about why he do the summer job. Instead of having summer class or enjoy his summer vacations from the school..
It made me thinking more about my son, because the rag vendor helps  his Family  for there every day  living ..  They are five kids in the family, he is the second.
He is already 2 years late in  his studies, instead of grade 5 this coming school year he just in grade 3 if  possible that he has a chance to go to school…
All the stories he had as a little kid helping their parents, I also experience that as older sister in the Family, I grow up as helper of my grandmother for everything.  She build me into a hard working  kid, she  teach me how to take care of the house  and selling food on the street, also to take care of our small fast   food in our barangay, in Tacloban. We sale   barbecue in the public market each night  and sometime I cant go to school because I'm so tired and don't have enough sleep, a reason why my grades are not that good.
Same as the little boy vendor, when I'm in his age too I don't have enough time to play, enjoy being  a kid.  I consider  that this boy is luckier because at least he is with his parents and the whole family is just there…  this boy  make's  me feel  lonely that at the moment  I'm so far to my son, that I cant see how he is,  and help him for what he needs..  My son is the reason why I visit in Tacloban.

I know there is not so much about my trip to Tacloban, just some thoughts crossed my mind while sitting here. I promise that the other parts Tripreport to Tacloban and Manila will continue… some when soon
Truly your
Maldita