I am pretty much emotional about the happening off the shores of Batangas, for those who are not in the PI or follow the news about several happenings, fishermen slaughtered a six meter Whale Shark.
The slaughtered Whale Shark was caught and his fins cut off. That all is covered by the Bantay Dagat of this area who is actually in charge for the protection of this creatures. According to that guy fishermen tried to free the Whale Shark entangled in a net… well, as you can see on the pictures they had the right tools to cut the fins in a very clean way.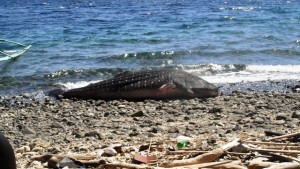 Here the first report I found in the Philippine Daily Inquirer early this week:

BATANGAS CITY—A dead whale shark without fins and a tail was buried on the shores of Tingloy Island on Tuesday morning, inscribing a sad epilogue to a Manila conference of 50 nations for the protection of the endangered fish species.
Locally known as "butanding," the juvenile whale shark (Rhincodon typus) was found at 9:30 a.m. on Monday by a group of foreign and local divers in Barangay Maricaban on the island, 44 kilometers from this city.
It was still alive but "very weak" when the group left it at 5 p.m., said Rey Manalo, head of the Bantay-Dagat (sea patrol) in Tingloy.
Manalo said the whale shark, measuring 18 feet, could have gotten accidentally entangled in a net laid out by a group of island fishermen who were catching fish nearby.
They must have tried to rescue the creature with their bare hands but could not do so without cutting its fins and tail, he said.
Since it could no longer swim, the hapless giant fish was placed in cool waters with Bantay-Dagat personnel watching over it, Manalo said. Unfortunately, it died on Monday night and was buried on the shore the next morning, he said.
Gimme a fucking break…..they cut the fins with their bare hands ???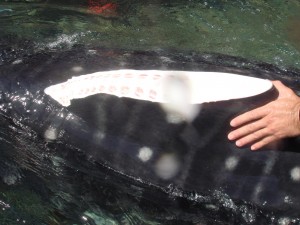 Here another report from the GMANews.tv:
An international group seeking the protection of endangered species condemned the attack on a whale shark (locally called the butanding) found off the shores of Tingloy Island in Batangas province last Monday.
In a statement issued on Wednesday, the World Wildlife Fund voiced concern over the possible slaughter of the shark, whose fins were sliced off.
"WWF condemns the perpetrators of this illegal act. This is a real eye opener, for it proves that the slaughter of endangered species – even one as big as a butanding – can still take place if we let our guards down," said WWF Philippines Conservation Programs vice president Joel Palma.
Divers found the shark last Monday. It was later taken near the Caban Cove where volunteers from Bantay Dagat, a civilian fisheries patrol in the country's coastal areas, tried to attend to the shark.
"Sadly, its wounds were too great – and the shark, nicknamed Tingloy Baby, died the next day (Tuesday)… and was laid to rest in Caban Cove," the World Wildlife Fund said.
The statement quoted Bantay Dagat members as saying that its members and local police recently found fishing vessels with strobe lights operating on Mabini town's shores.
The fishermen were asked to leave, but they later transferred to Tingloy town. The incident prompted WWF and Bantay Dagat to allege that the fishermen could be the possible culprits of the incident.
Bureau of Fisheries and Aquatic Resources director Malcolm Sarmiento also said the agency would investigate the possible slaughter of the whale shark.
In the Philippines, whale sharks have been hunted in the waters off Bohol, Misamis Oriental and Sorsogon, the WWF said.
"Shark fins and meat are usually exported to China, Hongkong and Taiwan. Whale shark flesh, called 'Tofu meat' sells for roughly $8 (P360) per kilogram, while dried shark fins are valued a hundred times more – approximately $800 (P36,000) per kilogram," it said.
Citing BFAR data, the WWF said about 200 whale sharks were slaughtered in 1997 alone, prompting the Department of Environment and Natural Resources (DENR) and the BFAR to call for legal action to protect the whale shark.
Republic Act No. 8550 or the Fisheries Administrative Order prohibits the possession or slaughter of whale sharks. Violators are punished with four years in jail, a maximum fine of P10,000 and the cancellation of the violator's fishing license.

Well, if you look at the numbers and know even only a tiny little bit about the attitude of 95% of the population of this country it is easy to understand that they go for the US$800 per kilo as the investigation will end where most things ending here … in the middle of fucking nowhere.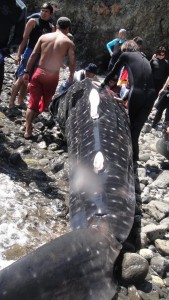 Finally there is a Diver on scubaboard.com who was actually involved in the rescue try. All the pictures are from him. Here is what he wrote (source: http://www.scubaboard.com/forums/5052410-post17.html )
I was one of the group of divers who found the Whale Shark in Anilao. Judging by the rope marks around the tail and damage to the underside of the fish, this magnificent creature had been roped up and pulled onto a boat to be finned before being discarded into the ocean.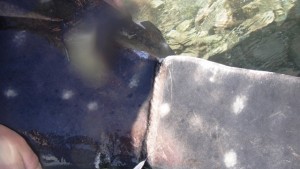 It was still alive when we found it, though only just. The muscles around its fins were still trying to move them and eyes still alert.
The guys from the Acacia Dive Resort called out the Marine Police who arrived within the hour and reporters from the local and national news. Footage from one of our divers – Pete was aired the same day on the local news and the following day on the national news.
I understand that media pressure in the Philippines brought an end to the slaughter of Thresher Sharks last year (is this true?) and hope the same will come out of this senseless act. I fear though that this slaughter will continue while there is a demand and whilst the authorities appear to cover up what appears to me to clearly be a blatant capture and finning.
Of course the fisherman who perpetrated this act should be pursued but it is the demand that also needs to be stopped and how does one do that?
I wish my first encounter with these magnificent creatures had been much more pleasant experience but hope these photos and videos can be put to good use to help bring an end to the destruction of these gentle giants of the oceans!

While I write this and look at the pictures I am more than angry, I am shaking shaking shaking, got tears in my eyes, desperate …fucking assholes …
I am freelancing since a while like many know. Being trained in one of the best PADI-Dive-center in the Philippines my safety-thinking is relatively high developed and I try to explain that to my students and divers many times why I suggest doing it "this way" instead of "that".
A couple of weeks ago I received the weekly newsletter of Asia Divers, the Shop in Puerto Galera which is mainly responsible why I am in the Philippines. (and of course the brilliant owners and staff there…) Guess I earned my Brownie Points now … hehe
Usually newsletters are about fun and how wonderful everything is. In that edition was another sort of story and before I continue, I wanna let you read it first.. (the following is partially copy/pasted from the original Asia Divers Newsletter)
Not every day goes they way we would like and certainly, like anywhere, the unexpected happens. On Monday the 9th of March we had the most unexpected when one of our new students who had only just gotten into the pool to do a "Discover Scuba" had what we think was a stroke! Our man who we will not name had just put his head under the water when he started to act a little abnormal and within a few seconds lost consciousness. Thanks to the quick work by Peter, Jamie and Brad, our man was out of the water, suit cut off and CPR was being administered. During the few minutes of CPR Dave raced in with a defibrillator in hand and set up for shock treatment. After a series of two shocks and sets of CPR our man gasped his breathing, and stayed so, till we managed to get him in record time to Batangas St Patrick's hospital. Needless to say we were all in a state of shock and disbelief….
Things like that are happening, and I was also involved in several accidents (as rescuer, not victim). While reading it, many things went through my mind. I remember that while I was working there we had several cases, quite interesting that no diving problem was involved there… Here in Dumaguete I had one serious one with a DM of the resort I was working in.
During my time here in the Philippines I saw so many "highly-trained" people including Course Directors, Staff Instructors, and Dive-Master running around like chicken without head, making wrong decisions or are under the influence of a "special tip in advanced" and simply risking the life of customer who trust them in their judgment.
I definitely know not one single dive-shop (including PADI-CDC) who have a defibrillator. One shop has a training-model and I rented it for one of my rescue courses and guess what… broken zipper and no batteries… by the way CDC means Career Development Centre… hmmm
I will analyze the situation further in the next article 'cause I need to get some diving done first…
Cheers for now and happy weekend
Rhoody
Chatting on Yahoo is a real big thing in the Philippines. I found the following conversation on a Internet-Forum. To keep the original poster in the back-ground I changed the name to Paul and the girls name to .. hmmm : girl
For human beings without experience in the Philippines it sounds totally unreal and faked but I can ensure, that you will hear that kind of stories about ghosts and all that crap almost daily when living here in the biggest catholic community (%-wise) worldwide.
I did not edit anything, next to the names and"oo" means yes
girl : u know what in in angeles
girl : where the girls stayed
girl : theres a ghost in the house
girl : that scared
Paul : where is the stay- in?
girl : yes
girl : yes
Paul : have you seen it ??
girl : and that ghost wants to get in into the body of some girls there
girl : yes
Paul : really
girl : oo
girl : thats why im scared
Paul : and what will it do if it gets into some of the girls ??
girl : the soul of the girl out and ghost get in…
Michael : really ??
girl : oo
Paul : what is walking in the wind ??
girl : like they are flauting
Paul : floating?
girl : oo
Paul : kk
Paul : and you've seen it?
girl : yes
Paul : wow
Paul : is it a man or a woman ??
girl : any
girl : theres a man and woman
Paul : there is more then one ?
girl : yes
Paul : why are they there ????
girl : one of the girl who can talk with the spirits and they said they live there and we should not be noisy
girl : and the voice of that spirit is so deferrent…its like an evil voice
Paul : talaga
girl : oo
Paul : so I gather you girls don't have many parties at your stay-in diba?
girl : i believe on it because i see
girl : oo
girl : before some girls dont believe so they keep on laughing
girl : but just this past 2 days 5 girls are victim
Paul : victim of what ??
girl : and because it happen ,…mostly of the girl want to saty out
girl : stay out
Paul : what happened to the 5 girls?
girl : like i said to ou…the spirits get in to there body
girl : and it was happen in bar
girl : in carousel
Paul : what did the spirits do while they are in the girls??
girl : the girl get out of there mind they will hurt someone…
girl : because they are very strong
girl : even 5 poeple cant stop it
girl : only the holy water
Paul : what about holy water ??
girl : and if the girl cant survived,…they will die
girl : holy water comes from the church
Paul : ok
girl : yes that true
Paul : kk
Paul : so what happened to the 5 girls??
Paul : are they ok now ?
girl : yes..
Paul : good
girl : i have another story
Paul : how were they saved?
Paul : ok what ??
girl : theirs a girl in bar that admired by unliving poeple
girl : u know what i mean?
Paul : theirs a girl in the bar that undead really like ??
girl : that girl was raped by man from other side of world
girl : world
Paul : what ????
girl : yes thats true
Paul : how ?
girl : hard to believe because u didnt see it
Paul : hummmm
Paul : what happened to the girl ??
Paul : is she ok ?
girl : she got pregnant….
girl : she didnt know why
girl : she is still a cherry
Paul : talaga
girl : oo
Paul : when will she have her baby?
girl : for human we have to wait 9 months to give birth
Paul : 0o
girl : but in there case they have to wait only for 9 days
girl : they are powerfull
girl : to do it
Paul : so she got pregnant and had a baby 9 days later?
girl : no
girl : she abort that….
Paul : ahhhh ok
Paul : wow
girl : yes
girl : unbelievable
girl : but in a province it can be
Paul : I C
girl : you believe in witchcraft?
girl : they are true
Paul : never thought about it really
girl : they can kill
girl : they are harmfull
girl : me i do
girl : sence i have my baby on my stomach
Paul : ??
Paul : what you mean ??
girl : everynight i cant sleep…
girl : because they stay near on me
girl : they want to get my baby
Paul : who does?
girl : they are human at the day but they are not human at night
Paul : ahhh aswang ??
Paul : diba?
girl : oo
girl : how do u know?
Paul : they are females
girl : hahahaha
girl : not all
Paul : talaga??
Paul : I thought all Aswangs were females?
girl : no
girl : males and females
Paul : kk
Paul : so when do you sleep if not at night ??
girl : da
girl : day
Paul : ahh kk
Paul : you are a good mother
girl : of corse…all mother dont want to get by anybody there baby
Paul : I C
girl : i have to go now…
…. and I need to remind you again, that is NOT a faked story…..
WARNING:   Don't laugh, giggle or smile!!!
I did not believe the girl and laughed about the story. Now the ghosts were in my house and I am pregnant…
cheers
Rhoody
"The budget should be balanced, the Treasury should be refilled, public debt should be reduced, the arrogance of officialdom should be tempered and controlled, and the assistance to foreign lands should be curtailed lest Rome become bankrupt. People must again learn to work, instead of living on public assistance."
I came over that quote while reading a book on my Off-Sunday laying at the beach. I couldn't stop thinking about it as it brings quite some truth with it. Somehow It could have been be said on a TV-show just yesterday or 10 years ago.
It made me thinking a couple of years back when I left Germany. At that time people were demonstrating for the 35 hour week and retire with 60… I never had that. I was working in the music-business 14 – 18 hours daily since I was 19 and spend all weekends, Christmas, new years-eve, birthday's somewhere in a crowd or a dark backstage area. I still loved my job and still don't wanna miss a second.
Since I am 12 I write diary. As a typical German I also wrote down my working hours, places where I have been and a lot of statistical stuff. For example in 2000 I had 21 off-days the whole year and spend some of them in the outskirts of Bari, probably on of the ugliest towns in lovely Italy…
I quit my job and company early in the 30 to move to the Philippine. When I went to my tax-officer in my hometown I could not resist to tell him that I have already more working hours than he will have in his entire life with his 8am to 4pm job (37 hrs-week, and I know in English it's a 9to5-job) in case he will live that long and can retire one day with 62.
His face expression was that of a deer standing frozen on a lonely road in pitch-black night, facing the fast closer coming bright headlights of a 40-ton-truck.
(Btw, you can get the same face-expression asking a local beauty if the moon or Berlin is closer to the Philippines… hmmm I can see the moon, but Berlin ? anyway what is that…)

When I went to the Philippines I reduced my time on Job to about 12 hours a day with 1 or two off-days a month and 10 days vacation (of course unpaid). Even now I easy beat the 40 hours a week on job.
So lets put my taxman in numbers for a year (365 days, 5 working days or 37 hours a week)
104 days weekend
30 days vacation
7 days sick (average in 2006, when I left Germany it was 9.5 days sick a year)
10 public holiday (normally 17 but some are on Sundays or fall depending on a year on a sunday)
3 other (days like Christmas eve where people work only half day and other stuff like socialising trips of the company and celebrations where nobody works)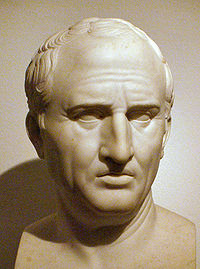 That means there are 211 working days left, or a total amount of 1,561 working hours in the whole year. I reached this number in 2000 in less than 100 days.
There is obviously a reason why I can read a book at a beach surrounded by lovely people and pretty girls, great diving and cold beer. For my part, I won't accept if my tax-officer whining around that he need to pay more money for his medicine and other stuff.
oops, sorry I almost forgot about it.
The quote above is more than 2000 years old and from
Marcus Tullius Cicero – 55 bC
Deja Vu
Rhoody
I know it might be boring for you ar I make now the second article about my cheap chinese bike, but I actually don't really care. I am sure it will look great. Like I assumed it is not finished today, but I can see big progress and most likely I have it mid-week and can place my big Lubut on it.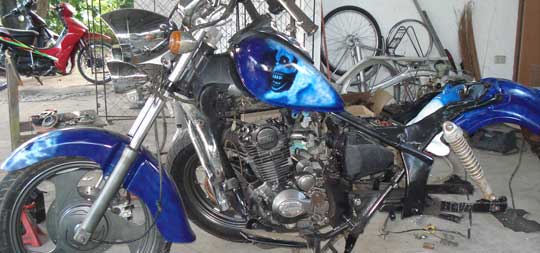 As all the electric is chinese, I don't expect that the direction lights are working longer than a week, but it does not really matter. Direction lights in the Philippines??? At least not in Dumaguete…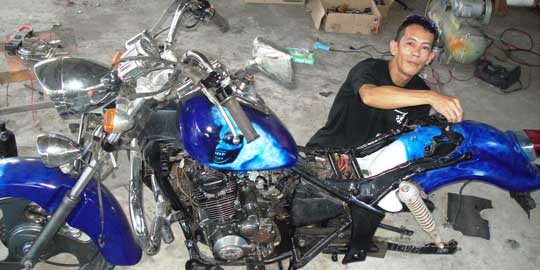 It is way more important that your horn is loud, Headlights are also OK.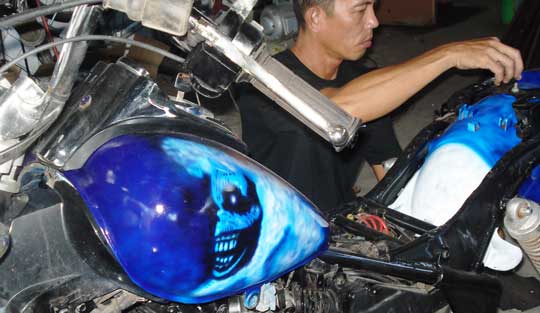 … and I promise I don't post anything about my Dayang anymore until it is really finished.
cheers
Rhoody
Like mentioned earlier, there was a Typhoon warning and that tail of it hit Dumaguete City with full force. When we reached the divesite big waves were rolling in and the visibility was less than one meter in shallow water. A strong surge was present and pushed us with each wave some meters to the left and pulled us back with the outgoing water. We rushed to get below 5 meter where the visibility was acceptable and no strong surge anymore. We rushed through the skills and headed down to 18 meter, the maximum of Open Water dive 3. With the "little" work out on our way out we reached quickly half tank and made our way back. Due to the decreasing visibility and increasing surge we surfaced quite a distance from the shore and the waves helped us to push us in.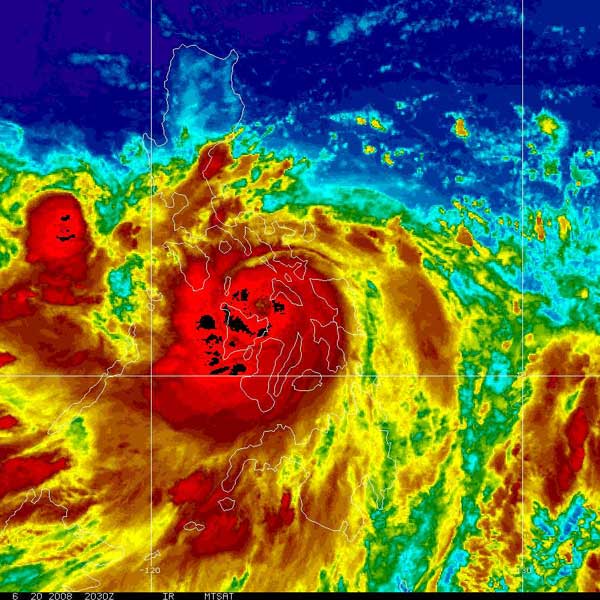 During our surface interval the wind increased dramatically and out changing area was totally under water. This place is usually such a peaceful spot where locals meet to have a great BBQ and to chill out on a lovely beach. Not today…. The place was flooded and the ocean showed his force. I wanted to skip the dive but Mike told me he wanna finish even with a short 20 minute dive. So we geared up and try to enter the water. This was very clear against Neptun or Poseidons plan. A huge wave grabbed us and spitted us out back on the beach, or what was left of it.
Mike didn't wanna give up and after 10 minutes of catching breath we gave it another try. I was counting the waves, height and strength the whole time and figured out a rhythm when it's the best going through them. We helped each other through the breaking waves and swam out as far as necessary to descend into a brown soup. I could not see the end of my own arm and we were holding each other until we hit the ground. Again, we rushed to go deeper but even on 12 meters the visibility was below one meter. Deeper at 16 meters we had about 3 meters, enough to let each other go. The surge was still there and even the Clownfish were all over the place, but not in the Anemone, where they usually belong. The underwater navigation was even for a UPS Pilot a drama but finally done. We decided quickly to return and get back to shore. Somehow we managed to get out of the water… not without the help of some locals, thanks for that. We quickly disassembled and rinsed before we were heading back to Dumaguete for a hot shower and a cold beer. If somebody can dive in this condition he can dive everywhere. Great Job Mike !!!!
Typhoon Frank hit the Philippines badly and left huge damage and plenty of victims behind. We were lucky ones this time to "catch" only the tail of it. Everybody says that the Central Visayas and the area around Dumaguete is safe and very protected, but who does really know ???  If the nature wants you it will get you.
all the best
Rhoody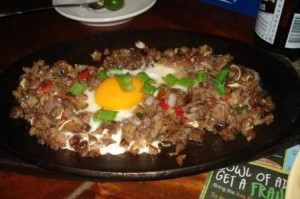 Food is a big thing in the Philippine Islands. During the last few years I tasted a lot of strange things. Many dishes were over delicious. I never found a list if local dishes and even the following is for sure not complete. It gives a rough overview about the local philippino street-cuisine.
The spelling is also different from region to region, my research is more based in the Visayas and Luzon. I will update the list from time to time when I get more stuff through my stomach. You can find this stuff at many local restaurants and street kitchens.
Dictionary of Philippine street food
Abnoy – unhatched incubated duck egg or bugok which is mixed with flour and water and cooked like pancakes
Adidas - chicken feet, marinated and grilled or cooked adobo style
Arroz caldo – rice porridge or congee cooked with chicken and kasubha; see also Lugaw
Atay – grilled chicken liver
Baga - pig's or cow's lungs grilled or deep-fried and served with barbeque condiments
Balat ng manok – see Chicken skin and Chicharon manok
Balun-balunan – grilled chicken gizzard
Balut – hard-boiled duck egg with fetus
Banana cue – deep-fried saba (banana) covered with caramelized brown sugar
Barbeque – marinated pork or chicken pieces grilled on skewers
Batchoy – miki noodle soup garnished with pork innards (liver, kidney and heart), chicharon (pork skin cracklings), chicken breast, vegetables and topped with a raw egg; origin traced to La Paz, Iloilo
Betamax – curdled chicken or pork blood, cubed and grilled
Bibingka – glutinous rice flour pancakes grilled with charcoal above and below in a special clay pot
Biko (also Bico) – glutinous rice cake with grated coconut topping
Binatog - boiled white corn kernels, sugar, grated coconut and milk
Bopis – minced pig's heart and lungs sauteed with garlic and onion and seasoned with laurel, oregano, bell pepper and vinegar
Botsi – chicken esophagus, deep-fried or grilled
Calamares – deep-fried squid in batter
Calamay (also Kalamay) – glutinous rice cakes; varieties all over the country
Camote cue – deep-fried camote (sweet potato) covered with caramelized brown sugar
Carioca (also Karyoka, Karioka) – deep-fried glutinous rice flour cakes served on skewers
Cheese sticks – deep-fried cheese wrapped in lumpia (spring roll) wrapper
Chicharon baboy – pork skin cracklings, made from pork rind boiled and seasoned, sun-dried and deep-fried
Chicharon bituka – pork or chicken intestine boiled, seasoned and deep-fried
Chicharon bulaklak – pork omentum boiled, seasoned and deep-fried
Chicharon manok – chicken skin cracklings
Chicken balls – balls made with chicken meat, deep fried and served in skewers with a sweet, sour or spicy sauce
Chicken skin – chicken skin battered and deep fried
Cutchinta - see Kutsinta
Day-old chicks – literally day-old chicks deep-fried to a crisp, served with sauce or vinegar
Empanada (Batac) – pork longganiza, egg and grated green papaya in a rice flour shell, deep-fried and served with vinegar
Fishballs – balls made with fish meat, most often from pollock, deep fried and served in skewers with a sweet, sour or spicy sauce
Goto – rice porridge or congee cooked with beef tripe
Halo-halo – translated as "a mix of many things" or "an assortment," it is a dessert topped with shaved ice that may contain sweetened saba (banana), camote, macapuno (young coconut), kaong, nata de coco, pinipig (rice crispies), gulaman (agar), sago (tapioca balls), brown and white beans, garbanzos, ube (purple yam), and leche flan (creme brulee), with milk and sugar
Helmet – grilled chicken head
Hepalog (also Toknonong) – hard-boiled duck eggs dipped in orange batter and deep-fried
Isaw – collective term for different types of grilled chicken and pork innards; varieties include isaw manok, isaw baboy, atay, goto, botsi, balun-balunan, and tenga ng baboy
Isaw baboy – grilled or deep-fried pork intestines on a skewer, served with sweet, sour or spicy sauce
Isaw manok (aslo IUD) – grilled or deep-fried chicken intestines on a skewer, served with sweet, sour or spicy sauce; also referred to as IUD because it resembles an intra-uterine device
Iskrambol (also Scrambol) – frostees; shaved ice, diced gulaman, sago and condensed milk
IUD - see Isaw manok
Kakanin – collective term for snacks made with kanin (rice), particularly malagkit (glutinous) rice; varieties include puto, kutsinta, calamay, sapin-sapin, suman, palitaw, biko or sinukmani, and espasol among many others
Kalamay – see Kalamay
Kamote cue – see Camote cue
Kikiam – the special ones are made of ground pork and vegetables wrapped in bean curd sheets, deep-fried and served with sweet, sour or spicy sauce; those in the street are seafood-based, usually made of fish meat and cuttlefish
Kudil – deep-fried pork skin
Kutsinta – steamed bahaw (boiled rice) with lye and brown sugar; has a gelatinous consistency
Kwek kwek – see Quek quek
Lomi – noodle soup made with thick fresh egg noodles or lomi
Langoniza – pork sausage grilled or fried on a skewer
Lugaw – rice porridge or congee; varieties include arroz caldo (with chicken and kasubha) and goto (with beef tripe)
Lumpia – spring rolls; varieties include lumpiang basa; lumpiang hubad – fresh spring rolls wothout the wrapper; lumpiang prito; lumpiang sariwa – fresh srping rolls; lumpiang shanghai; lumpiang ubod; and turon
Mais – boiled sweet corn seasoned with salt, butter or margarine
Mais con yelo – sweet corn, milk and sugar topped with shaved ice
Mami – noodle soup
Manggang hilaw – green mango served with bagoong (shrimp paste)
Mani – peanuts either boiled, roasted or deep-fried and seasoned with garlic and salt
Maruya – banana fritters
Nilupak – mashed kamoteng kahoy (cassava) or kamote (sweet potato) with brown sugar and served with butter or margarine
Palitaw – glutinous rice flour pancakes topped with grated young coconut, sugar and roasted sesame seeds
Panara – deep-fried crab and grated green papaya empanda sold in Pampanga during Christmas season
Pancit – noodles; varieties are batchoy (Iloilo) – see Batchoy; batil patung (Tuguegarao) – local noodles topped with hot dogs, chicharon, ground meat, fried egg, and vegetables; pancit bihon; pancit canton – a kind of pancit guisado flavored with ginger and soy sauce; pancit guisado, pancit habhab (Lucban) – sautéed miki noodles served on and eaten straight from banana leaf sans utensils; pancit lomi – see Lomi; pansit luglog (Pampanga and Tagalog Region) – it has a distinct orange shrimp-achuete sauce and is topped with chicharon, tinapa, wansoy and shrimp; pancit malabon (Malabon) – made with thick rice noodles tossed in shrimp-achuete oil topped with shelled oysters, squid rings, suaje or hipong puti and wansoy; pancit molo (Iloilo) – clear chicken broth with wonton, garlic and crushed chorizo; pancit palabok; pancit puti (Manila); and pancit sotanghon among many others
Pandesal (also Pan de sal) – breakfast roll; rounded bread
Pares – translated as "pair," means the pairing of rice with beef; beef pares is characterized by very tender meat, usually with a lot of litid (ligaments)
Penoy – hard-boiled duck egg without fetus
Proven – hard portion of chicken entrails that is either marinated and grilled, battered and fried or cooked adobo style
Pusit – squid grilled on skewer
Puto – steamed rice cake
Puto bumbong – purple glutinous rice snack cooked in a special steamer
Quikiam – see Kikiam
Quek quek (also Toknanay) – hard boiled chicken eggs dipped in orange batter and deep-fried; also used for quail eggs but some say the correct term for the quail egg version is tokneneng; the balut version is sometimes referred to as hepalog
Sapin-sapin – layered glutinous rice and coconut milk cake usually topped with grated coconut and latik (residue from coconut oil extraction); different flavor per layer such as ube (purple yam), macapuno (young coconut), kutsinta and langka (jackfruit)
Scrambol – see Iskrambol
Sinukmani – see Biko
Siomai – steamed pork dumplings
Siopao – steamed pork buns
Sisig – roasted pig's head, chicken liver, onions and chili, chopped and flavored with calamansi served on a hot metal plate
Sorbetes (also Dirty ice cream) – street ice cream made with local fruits and ingredients; common flavors include ube (purple yam), mango, avocado, queso (cheese), chocolate, langka (jackfruit), buko or macapuno (coconut); strawberry is common in Baguio City
Squid balls – balls made with squid or cuttlefish meat, deep fried and served in skewers with a sweet, sour or spicy sauce
Suman - glutinous rice snack steamed in banana or coconut leaves; varieties include binagol (Leyte) made with glutinous rice, gabi (taro), coconut milk and chocolate; budbod sa kabog (Tanjay, Negros Oriental) which uses millet instead of glutinous rice; Taho – bean curd snack topped with arnibal (liquefied raw sugar similar to molasses) and sago (tapioca balls)
Tenga ng baboy (also Walkman) – marinated pig's ears grilled on skewers; see also Kudil
Toknanay – see Quek quek
Tokneneng – hard boiled quail eggs dipped in orange batter and deep-fried; also called kwek kwek by others
Toknonong – see Hepalog
Tupig (also Itemtem) – glutinous rice, grated mature coconut, coconut milk and molasses rolled in banana leaves and grilled; varieties in Pangasinan, Ilocos Norte (Batac) and Isabela
Turon – saba (banana) with with sugar and sometimes langka (jackfruit) wrapped in lumpia (spring roll) wrapper and deep-fried
Walkman – see Tenga ng Baboy
enjoy your meal
Rhoody